PHS Columnist and Harlequin Historical author Nicole Locke asks - To Smoulder or Not to Smoulder, is that really the question?
Truthfully, this should be called Males on Monday. Because there's not enough Mondays in the year to be talking about all the males I want to be talking about today. But I'm digressing. Or…maybe getting to the point. What I want to talk about is that gaze we all know about, and what Male gives it best.
It's not the smoulder.
Although, it has to be addressed because all relationships begin with the smoulder. Certainly romance novels begin with them. It's that look across the room; that visceral awareness charging through the characters.
Yet as sizzling as that look can be (and that look has sold a lot of underpants…oh, thank you, Mr. Gandy), it's not what gets me giddy with delight. Nope. The moment that has me panting on the edge of my seat is that look right before the hero kisses the heroine.
There's passion, plenty of intensity and ah, yes, that hint of vulnerability. I could just hunt down, take down all the competition and tackle that moment of vulnerability.
That moment of vulnerability isn't trepidation. It's the exquisite anticipation of wonder, of singular significance. Of Love.
You see, we may swoon at the smoulder, but it's not what makes us fall in love. That moment is when we first expose and engage the heart. And for one delicate moment, it's reflected in the eyes.
So what Male On Monday captures it best? Oh, there's too many. But good examples are: James Marsden, Matthew Goode, and Matthew Macfadyen.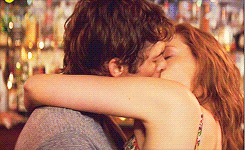 In 27 Dresses, there's a pub scene where Jane and Kevin (Marsden) are singing on top of the bar. When they jump down, there's an immediate flare of desire as they realise they are in each other's arms. But what tips the balance is Kevin's vulnerable expression and confession he gives Jane: 'I cried like a baby at the Keller wedding.' Passionate kiss... and love ensues.
In Leap Year, Declan (Goode) is forced to kiss Anna, the woman he longs for. There's plenty of vulnerability because he's not prepared for the moment, and he knows it's significant for he may not get another chance. Goode's so good at these vulnerable looks before kisses. Did anyone see him in Chasing Liberty?
And of course, I have to mention that almost kiss Mr. Darcy (Macfayden) gives in Pride and Prejudice. Passion? Vulnerability? Oh, yes, in spades. And I wish for more Mondays to talk about it!
-- Nicole (-:
Nicole's celebrating the release anniversary of her first book

The Knight's Broken Promise

, with a Goodreads Giveaway beginning February 2nd. To find out more about

Nicole Locke

, visit her
website
, and follow her on
Twitter
.
Does anyone have a favourite male, who gives a good 'Not The Smoulder Look'?