Columnist

Donna Alward

is back at the

Pink heart Society

this month with a post about how goals - and goalposts - change over time, and the trouble she's had transitioning.
When I went back to my notes to see what topics were recommended for Tuesday Talk-Time, there was a bit about the changing face of the industry and also the words Bare Your Soul.
Here's the thing: as authors, we tend to be careful about venting about the negative parts of our job. Because honestly, it's a pretty good job. We get to make stuff up for a living. Sometimes people send us e-mails telling us how much they enjoyed that made-up stuff. We get to avoid commutes, dressing up for work, and can make cake-in-a-cup whenever we want.
But it can also be really, really stressful.
Here's the thing that's happened to me. Despite working harder than ever and pretty much burning myself out, my sales kept dropping. That in itself is discouraging. It's not happening only to me, either. Lots of authors are finding it harder and harder to make a living - believe me, we talk to each other. I've got two kids and college fees are kind of like that light in the tunnel that turns out to be a freight train bearing down on you at increasing speed. Cost of living keeps rising. And my bank deposits are shrinking.
Basically the best summary I've seen on the topic was by Kristine Kathryn Rusch and I liked it so much I used quotes from it in an upcoming article series in the RWR (Romance Writers Report). Here's the link that kind of explains where a lot of people's heads are at. It's kind of gloomy, but strangely inspiring too.
But I keep coming back to this really important part: I love what I do. I create. And yet when it comes to artistic endeavours, there seems to be this perception that you're either in it for the art or the money.
THESE ARE NOT MUTUALLY EXCLUSIVE THINGS.
Art for art's sake is, in my opinion, for those people who don't need to worry about putting food on the table. I'm BLESSED that this is also my job, but it also means I fully believe in being paid for my work. That doesn't make me naive. It makes me a businesswoman as well as a writer. Also not mutually exclusive things.
And so for the past several months, I've pored over articles, over financial and sales statements, over calendars; I've spoken to my agent, my editors, other authors. I've listened to workshops. I've read books. I've written, too, fulfilling my contractual obligations, proposing new stories to my publishers. I've thought about what I want to write and what will inspire me again. I've definitely thought about how to keep the quality in my work in an environment where financial gain is heavily reliant on being prolific. I've thought about how to cut back on household bills, what I'm willing to sacrifice, and what I'm willing to do if this just isn't feasible (check out Rusch's "Freelance Scramble").
My goals are very different now than they were a few years ago. Or even a year ago. And I'm soooo tired of lying awake at night worrying about it.
We authors - we smile from the wrists down a lot of the time. But sometimes I think we all wonder what it would be like to get a paycheck every 2 weeks like a regular job.
Because other than when those shrinking royalty pay days come, you really don't know when you're going to get paid.
And if you're not self-publishing, you don't know how much your royalties are going to be until you get them because you don't see statements and sales figures until they're issued.
And sometimes all this businessy kind of stress takes a toll on your creativity. And you have to find a way to forget about it and lose yourself in your story.
Hey, the topic said Bare Your Soul. :)
So, in trying to figure out what my goals are, and how the goalposts have moved (I feel like I should have studied marketing in university rather than literature), I came across this in a blog by Delilah Dawson:
I went to a panel on How to Write a Bestseller at the RWA conference and asked the two speakers what was the number one contributor to their making the jump from midlist to bestseller, and they both looked very uncomfortable and said, "We just kept on writing." They couldn't point to a single marketing-related action. They sure as hell didn't say, "We sent a lot of auto-DMs on Twitter with our book links in them."

The recipe seems to be GREAT BOOK + HARD WORK + TIME + LUCK.

And the writer can only control three of those things.
I'm working my way through it, and making decisions as I go. The hardest part for me is knowing that the changes I'm making now won't bear fruit until months down the road and I'm not a patient person! I also know that changes I'm making now might not bear fruit at all. But I keep coming back to a saying I've heard time and again: no one is more invested in my career than me.
Here's what I know for sure. I love writing romance. I love my readers and I want to keep writing my stories for THEM. And if I make smart decisions, and then focus on writing those stories for my readers, everything will hopefully fall back into place again.
Until, of course, the goalposts change again. But then you just have to roll with it. The thing with rolling is that it's not always graceful, but hey. Nothing's perfect.
How do you deal with those moving goalposts? Join the discussion in the comments!
Donna

's latest series release is

The Cowboy's Homecoming

, the final book in her

Crooked Valley Ranch

trilogy: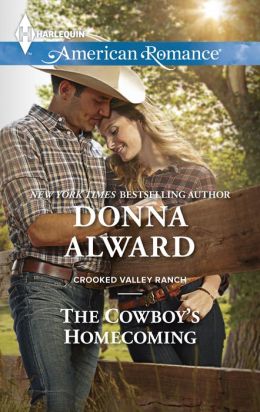 BACK... FOR GOOD?

Once, rodeo star Rylan Duggan had called Crooked Valley Ranch home. But after an incredible, romantic night with neighboring rancher—beautiful, strong, smart Kailey Brandt—he'd bolted. He didn't look back, telling himself he preferred life on the circuit with no commitments and no ties.

Until now. With Rylan back for a few short weeks, Kailey can't deny their attraction is as strong as ever. She thought she'd learned her lesson the first time he'd hurt her—and the handsome cowboy is still adamant he will not be sticking around. While helping him build Crooked Valley's business, Kailey sees a different, more grounded side of him. Has Rylan finally found his home… in Kailey's heart?