The Pink Heart Society

thought these Olympic games were amazing! Yes, exclamation point worthy. The strong women, the determined men, the pride and passion of everyone involved. But this is Male on Monday, so we'll keep it to the men's events.
SWIMMING
Lochte & Phelps. That was the lead off story of the Olympic games for weeks, at least in America. And for good reason, as their medal count lived up to the press. Plus, how cute is Ryan Lochte? If I ate cereal, I'd want him on my Wheaties box!
And when I think of Michael Phelps - retiring and financially set at 27 with that tones, tall physique? Am I the only one who thinks that sounds like Presents or Desire hero?
DIVING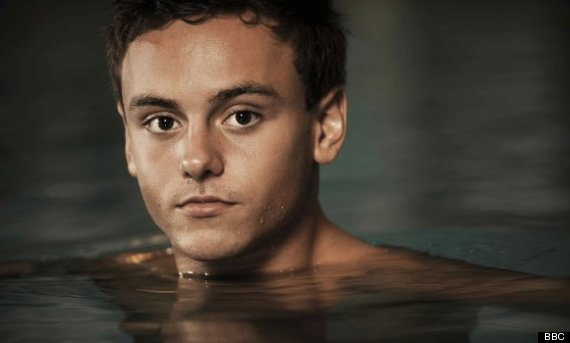 Let's keep it in the pool to admire the men crazy enough to jump off three story buildings into a tub of water. The gymnastic ability of the high divers is awe inspiring, as is the slight craziness it takes to even attempt it.
Regardless of country, most everyone was chering on Brittain's Tom Daly. Just eighteen and in his second Olympics, the English teen heartthrob has endured personal tragedy with the loss of his father a year ago. Every dive was dedicated to his father's memory, and so, we enjoyed watching them all the more.
TRACK
I don't know about y'all, but the bodies on the Olympic sprinters were un-freaking-believable. They looked photoshopped, and truly superhuman...and then they moved at the speed of wow. So many of us just sat on our couches saying...WOW!
The dedication and determination it must take to create the perfect storm of muscle, power, and quickness to propel the human body that fast...I may need to fan myself.
VOLLEYBALL
We don't see much volleyball in the US, so I was loving watching the games. The men are so tall and focused. I enjoyed beach volleyball the most. It was just so intense.
I could go on, and on. Soccer, basketball, wrestling - even sports I'd never realized like handball and ping pong (really). Instead, I'll ask...
Who was your favorite man of the London games?
So excited about The Romantic Times review of
Drive Me Crazy
-- 4 stars and a HOT! They are so good to me.
Bayley-Burke's newest is a crazy and sexy ride from Washington DC to Oregon. Readers will eagerly turn the pages as they wait to see what happens next. From haunted B&Bs and whore-houses to a petting zoo, her main characters are on the road - and the romance - of a lifetime.