PHS is delighted to have a sneak peek into where Harlequin American Romance author Barbara White Daille creates her books
Hi.

I'm happy to be here today to share a little bit about my writing space.
Growing up in a family of six, I sometimes found the only way to get time alone for reading or homework was to go into my bedroom and close the door.

While that helped me develop good study habits, it sure didn't do much to strengthen my powers of concentration!
Often, having too many "things" around can distract me.
When my husband and I moved from an apartment to a new home, I grabbed the extra small bedroom all to myself to make into an office.

Time alone.

Peace and quiet.
To keep the room looking nice, we bought a computer armoire.

It's a beautiful piece of furniture.

The best thing about it is, when you're done working for the day, you can close the doors on top and fold in the desk and file cabinet on the bottom, and you're back to your nice piece of furniture.
The other great advantage to the armoire is that the upper doors hide a dozen shelves that you can fill with books and manuals and knickknacks.
The key word in that previous paragraph is "hide."

I wouldn't dare show you the contents of all my shelves at one time.

Or maybe ever.

LOL

But I will share the shelf I like best.

See if you can tell why it's my favorite.

(smile)
Usually, I can deal with all the "stuff" around me, but when my mind is very full—when I'm in the middle of a manuscript, for example—it doesn't take a lot for me to long for quiet, peaceful surroundings again.
And when that still seems busy—too close to the Internet, you know (smile)—I go here:
All of the above places work for me, just at different times.

I'm sure the locations you've chosen work for you, too.
No matter what kinds of projects you're involved in—writing, scrapbooking, organizing the weekly menu, and everything else—what do you crave around you?

A lot of "stuff" to excite your creativity or to serve as visual memory aids?

Or a space filled with peace and quiet?
Barbara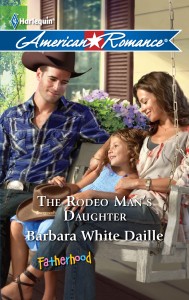 To read more about the books Barbara White Daille creates visit Barbara's website http://barbarawhitedaille.com/ Be sure to look out for her recent release. The Rodeo Man's Daughter.