USAToday Bestselling author and mom to four,

Mira Lyn Kelly

, is kicking off her new column and the new year with one resolution that covers them all… Balance.
In a perfect world, I would be the kind of mother who joyfully gave my family everything I was, every second I had… and it would neither suck the life out of me, nor turn my children into a lot of spoiled psychopaths. My house would be immaculate. Dinners, healthy and delicious every night. My husband, family and friends would have my undivided attention, as long as they desired it. I'd be totally fit and I'd have five to eight books releasing every year. Oh, and it would all be effortless.
Yeah, yeah. This, is not a perfect world. I am not a perfect mom, an effective housekeeper, or a prolific writer. And my jeans are too tight. As for giving everyone the time they want…with four kids, I could dole out my attention twenty-four-seven and it wouldn't be enough.
Essentially, I'm a perpetually busy mom with a million responsibilities, a passion for a career I can't seem to find enough time to really get going, and a life that seems to forever be just a bit beyond my control.
I want to do better.
Notice I didn't say I wanted to do it all. I can't. There aren't enough hours in the day, enough of me to go around, or even enough slots available in my line to handle all those books, lol. But better I think is possible.
Which means this year I'm all about making a better balance my resolution.
I'll be taking a look at my priorities, seeing what room there is to wiggle, and then making some tough choices. Checking out techniques to maximize my effort/output ratio. Working toward a healthy mind/body goal. Testing tips on ways to keep my home from becoming a hovel. Basically trying anything and everything to turn out the books while making sure my highest priorities know they are number one… and, ideally, not losing my mind in the process.
So if you are like me, a determined mom trying to squeeze out as much of IT ALL as you possibly can, please join me the second Tuesday of each month to share tips, advice, experiences and maybe even the occasional consolation as we take a Write-At-Home-Mom's journey toward a better balance.
Mira
www.miralynkelly.com
Facebook
http://www.facebook.com/profile.php?id=100000747420386
www.twitter.com/MiraLynKelly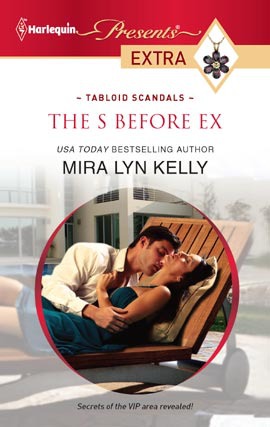 THE S BEFORE EX
There's one thing even the tabloid hounds haven't managed to dig up about celebrity Ryan Brady: he is married! He may be one of America's most desirable men, but his secret wife has just filed for divorce.
Since their separation six yeahttp://www.blogger.com/img/blank.gifrs ago, Claire has turned her life upside down: new business, new friends, new life. But when she sees Ryan to hash out a settlement, her body tells her one thing hasn't changed—he's still the only man who really does it for her. With all other guys guaranteed to be totally meh, she's in last-chance saloon: it's either an X-rated fling with her ex, or straight to chastitybelts.com!