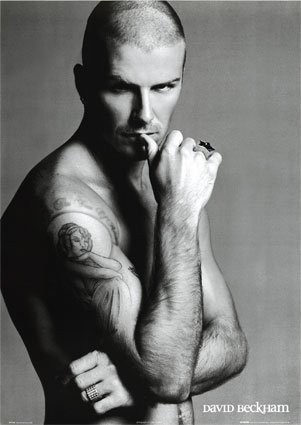 The Pink Heart Society

editor Jenna Bayley-Burke shares the hero inspiration for her latest release, the ever ogleable David Beckham.
This week H&M released posters of the magficent David Beckham. Just like when his Armani ads came out, women everywhere took a moment to appreciate and fantacize about such a gorgeous example of what we love in our fantasy men.
The thirty-six-year-old father of four became a professional athlete at just seventeen. He quickly became a star, and when he began dating Posh Spice, a superstar. Their combined followings provided the perfect storm of celebrity publicity, and they've been steadily riding those waves ever since.
Even though he is beyond sexy, the most attractive thing about David Beckham may be that he is happily married, devoted to his wife and children. Most paparazzi candids find the Beckham crew together, doing what most families with young kids do - grocery shop and play outside.
And then there is the glamour factor. He goes to all the best parties with the other famous celebrities, lives on an estate he bought for a cool twenty-two million, and travels the world. He must smell amazing because he has his own cologne. He dresses well, probably contractually obligated to look good as part of his endorsement contracts. The thoughtful tone of his autobiographical books, his work with UNICEF, and even his bad-boy tatoos representing his wife and children all add to the mystique.
Definitely Male On Monday worthy.
Is it any wonder Jenna let David inspire the hero of her latest book?
For Kicks
releases tomorrow, January 24th. To celebrate Jenna is holding a Twitter contest and skipping around the internet on a blog tour. Stop by each blog post for a chance to win a $5 egift card for Amazon, B&N or a bookstore of your choice. If you've already picked up For Kicks, use it to snag another of Jenna's titles.
Do you want to win? The winner will be posted around midnight tonight in the comment stream. Be sure to check back. Just comment on this question...
What is the sexiest thing about a man? For me it's not about his ability to attract a woman, but how he keeps her interested in him forever. Now that is a skill.