Harlequin Romantic Suspense author

Gail Barrett

steps into the spotlight...and

she's got a giveaway too

!
Author bio
Award-winning and Rita-finaling author Gail Barrett is thrilled to announce the launch of her new Stealth Knights miniseries about semi-reformed bad boys who work for the greater good. The first book in the series, HIGH-RISK REUNION, is out now with Harlequin Romantic Suspense. The second book, HIGH-STAKES AFFAIR, will be out in March 2012. For more information visit her website: www.gailbarrett.com

.
Tell us a little about your latest story? What inspired it?
HIGH-RISK REUNION is the first book in my new Stealth Knights miniseries. I wanted to do something different with this series and write about unconventional heroes, not the typical soldiers or warriors, but rather men who work under the radar, slightly shady characters who use their less-than-legal skills to do something good. These are reluctant heroes with honorable hearts.
Gail you've definitely got my attention now. I love those unconventional heroes with just hint of bad boy. Let's have a look at the blurb.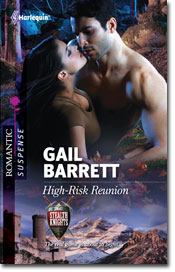 Redemption is but a step away for reformed jewel thief Rafael Navarro. The price? One last, dangerous heist. But when things turn deadly and an innocent is accused, his only way out is to trust the woman who once betrayed him.
Eons ago, heiress Gabrielle Ferrer had broken Rafael's heart to save his life. Now that her covert quest for revenge against a ruthless criminal has taken a lethal turn, they are forced to work together to clear their names of murder. Old attractions and new desires flare -- yet the secrets of their dark pasts may lead to a fatal future...
Stealth Knights: Powerful, passionate heroes with their own code of law.
What's in your TBR pile and why?
My TBR pile is wildly out of control. I have stacks of books piled on the floor and dresser beside my bed. Some are classics I want to reread (Jane Austen, Daphne du Maurier). Others are non-fiction books I'm reading for research. In addition, I have a more than a dozen Nora Robert books I need to catch up on, the current releases by my fellow HRS authors, and scads of other books I've picked up at conferences and book swaps.

When the writing is done, how do you kick back to relax?
Strangely enough, the first thing I do is clean the house. While I'm in the last stages of a book and my deadline is looming, I've generally stopped doing anything except writing, so once it's done I go on a cleaning binge. That helps clear my head and gets me ready to tackle the next book.
What's the most adventurous thing you've ever done?
When I was researching TO PROTECT A PRINCESS I spent a week working as a translator for some medical missionaries in the high mountain villages of Peru. Even though I had a bad case of altitude sickness, it was an amazing, life-changing experience. It really jolted me out of my comfort zone and made me appreciate the luxuries I have in my life.

Describe your perfect romantic evening?
My ideal romantic evening would be sitting at an outdoor café in a medieval village in Spain with my husband, eating tapas and drinking wine.
Was there a defining moment when you decided to pursue writing as a career?
I've always wanted to be a writer, but as the years wore on I was always too busy earning a living and raising my children to do much about pursuing that goal. Then one day I started reading a young adult novel I'd selected for the middle school class I was teaching. The book was so powerful and so beautifully written that it reminded me of why I wanted to write. I decided right then that if I was ever going to do it, I couldn't keep putting it off. So I buckled down and got to work.

When pursuing that first sale, what line did you target?
When I finally got serious about writing, the first thing I did was analyze what I liked to read. I realized I liked the romantic elements in books as well as the mysteries, so I started reading romantic suspense novels to see where I might find my niche. Fate led me to my first Silhouette Intimate Moments book, and I was hooked.
Plot or Pants?
I'm definitely a plotter. I don't have to know every detail, but I need to know who my characters are, what they are going to learn, and what will pull them apart before I can begin to write.

What's the best piece of advice you have to offer to an aspiring author?
Persevere. There are always reasons to stop writing. To succeed in this business you have to want it desperately, and you have to keep plugging along despite the obstacles that come your way.
How would you describe what writing is to you? (Habit, hobby, outlet, obsession, sanity savor…?)
Writing is more than an obsession with me; it's who I am. It's what I've always wanted to do. Even if I never sold another book, I would continue to write. It's just too much a part of me to give it up.
Gail, thank you so much for joining us today!


Gail will be giving away a copy of HIGH-RISK REUNION to one lucky commenter, so don't forget to say hello!
(US only, winner will be announced in comments of this post)
Contact information:
Email: gail@gailbarrett.com
Website: www.gailbarrett.com
Facebook: https://www.facebook.com/pages/Gail-Barrett-Fan-Page/125454837470067
Twitter: http://twitter.com/#!/GailEBarrett