PHS Editor Donna Alward reviews this month's pick, HER BEST FRIEND by Sarah Mayberry - and announces the read for May.
April got crazy and my reading fell off and so I left reading
HER BEST FRIEND
until the last minute. And now I wish I'd read it a whole lot sooner. Let's cut straight to the chase - this is the best category romance I've read all year. I loved it. I have 2 more of Sarah's books on my TBR and now I'm doubly excited about reading them.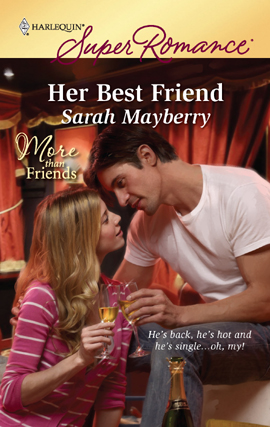 The premise is simple: Amy is fulfilling her lifelong dream of restoring the local theatre, but she's hit a snag and enlists the help of lifelong friend, Quinn. She's been in love with Quinn since she was fourteen, by the way. And being close quarters with him now - and knowing he's only weeks away from finalizing his divorce - is playing havoc.
The dialogue is sharp and witty and keeps the pages turning. The pacing is really well done - just when it might slow down, Mayberry throws in a new complication. Like something happening with developer Ulrich (the villain). Like a kiss. Like too much wine and a friend who calls her a coward, prompting Amy to make a drunken declaration. That declaration was so utterly brilliant on its own, but when Amy realizes that she's actually had an audience...my jaw dropped and I felt so damn sorry for her. And when the soon-to-be-ex arrives - who, incidentally, is also a childhood friend, well, I got to the last 20 pages and thought how is she ever going to pull a HEA out of the hat?
But she did.
I had so many moments of writer envy it was ridiculous. I posted on my blog once about the Rule of Three and Mayberry used it to perfection with the interruptions by Amy's mother. The last one got a response from Quinn that I had to read twice to be sure he actually said it AND HE DID. Just when you think that Quinn realizing he cares for Amy is going to suck out all the tension (where do you go now?) Mayberry adds a new dimension and depth to the conflict that makes you ache for Quinn's dilemma. I'm not sure whether I should be inspired by the strength of the writing or just feel horribly inadequate!
And it's hot. Even the scenes where they stop are deliciously hot. She knows how to do sexual tension. And did I mention that this book even had a flashback AND a dream and both were done well?
Happy sigh...
HER BEST FRIEND is a wonderful blend of emotion, humour, and sizzle! My fave Category Romance of the year, and I'm excited to dip into the other 2 of hers I have waiting! Thanks for such a great read, Sarah!
And now...drum roll please... the pick for May!
TEXAS HEIR
by Linda Warren - from Harlequin American. It was out in 2008, but you can get it for kindle
HERE
or from eharlequin
HERE
.
Come back on May 26th to chat about it and find out what we're reading in June!