Pink Heart Society

editor Jenna Bayley-Burke has never seen a single episode of the original Hawaii Five-0, but it's a safe bet she won't miss any of the new version.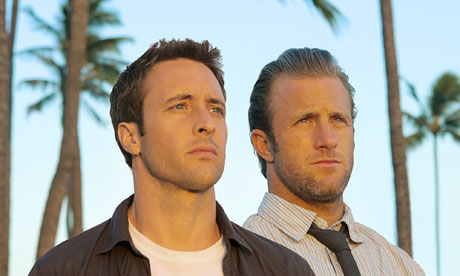 I love when new shows start airing on television. It's like Hanukah for grown-ups. Every night a new treat. I've been watching the previews for one particular show, and can't decide if I'm more interested in the scenery...or the men.
I predict that Hawaiian vacations will get even more popular once people are reminded of the beauty of the islands - palm trees, beaches at sunset, big waves, Diamond Head, surfers... I love Hawaii, so I'm looking forward to a weekly dose.
Since it is Monday, let's focus on the men, shall we? I've heard of the original Hawaii-Five-0, but it went off the air when I was still watching Sesame Street. The new version combines sexy men and Hawaii. Two of my favorite things!
Alex O'Loughlin
stars as Steve McGarrett, a Navy SEAL who returns home to the islands to take over the elite Hawaii Five-0 task force from his father. Alex has been in a long list of shows CBS canceled - The Shield, Moonlight, Three Rivers - but I think this series has more staying power. He was also in The Backup Plan with Jennifer Lopez...which I haven't seen. But y'all know me and movies...
McGarrett is smart, capable, determined - everything you want in your law enforcement hero. And to be completely sexist, I hope they have him take his shirt off in every episode!
Dan "Danno" Williams is the foil to McGarrett's get-it-done attitude. The catch phrase "Book 'em Danno" shows his more by-the-book approach. Played by Scott Caan, best known for Oceans Eleven, Twelve, and Thirteen, Dan Williams comes to the islands to be closer to his daughter. Single-father heroes are always a winner.
From what I can see, the show will be a police procedural in an awesome setting, but with a bromance twist. Just the comic relief I need when things start to get a bit heavy.
Chin Ho Kelly is played by Lost's Daniel Kim. Talk about a sweet deal - he got to live in Hawaii for 6 years with Lost and he'll be around even longer thanks to Hawaii Five-0!
Kelly is a former police detective who McGarrett snags for his task force. Kelly is a native Hawaiian, giving the task force more respectability with the locals. I love pidgen, the blend of English and Hawaiian peppered into conversations on the islands, so his character is my hope to learn some more.
Mahalo - thank you - to Hawaii Five-0 for the eye candy. (Be sure to watch tonight!)
Jenna Bayley-Burke is a best selling author recently featured on
Good Morning America
. Kinda. Compromising Positions is available free from
Nook
&
Kindle
for a few weeks, and made the best seller list for free titles and GMA did their daily top ten list of
Kindle
bestselling free ebooks and
Compromising Positions
made the list. But doesn't it sound better the first way? Keep up with Jenna's spin on things on her website &
blog
.