It's
Pink Heart Picks Book Club
time again and August's selection was from the Love Inspired line -
The Cowboy's Sweetheart by Brenda Minton.
When I was trolling the eharlequin store for the month's pick, this book stood out for a few reasons. One, I hadn't yet spotlighted anything from Steeple Hill. Two, I loved the cover, being partial to westerns for some reason. :-) And three, I was sold on the blurb. Here's what it says: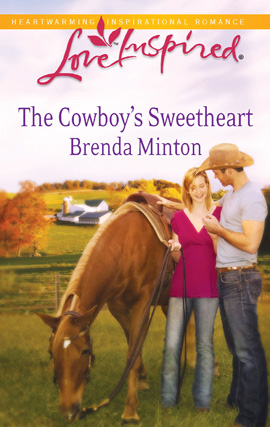 Cowgirl Andie Forester let an unexpected kiss turn into something more with cowboy Ryder Johnson. He's her best friend—and the man she's secretly loved forever. But when Andie discovers she's carrying his child, she turns to her newfound faith instead of the friendship now lost to her. Until Ryder comes blaring into Dawson, Oklahoma, proposing marriage—for the right and wrong reasons. Andie longs to say yes. But commitment-shy Ryder will have to say three little words first. And mean them from his cowboy's heart.
Now, I don't read widely across Steeple Hill but the idea that this book was going to deal with an unplanned pregnancy from a one night mistake...I HAD to know how the author would handle it within the parameters of an inspirational romance. Those of you who read Love Inspired lines regularly - do unplanned pregnancies feature a lot? Even if they do, I hadn't come across it before and I knew I wanted to read it.
It's a sweet story, at times repetitive in its sentiments but that's because Ryder Just. Doesn't. Get. It as his brother Wyatt likes to point out. And Andie is a spunky, likeable heroine, independent and a little gunshy with good reason. It was a really enjoyable read and I do wonder what's going to happen to Wyatt in his own story. Also, in the Steeple Hill books I've read I've noticed there is a wide variety of what I call "Faith Factor". This one was pretty light, while others have turned me off a bit by being preachy. The integration of faith in this book is seamless and effortless...accepting prayer, accepting things on faith. If you want to introduce someone to what is great about inspirational romance without beating them over the head with "churchiness" - this is a good example. It all depends on what the individual reader prefers.
That being said - I wanted to know some things. I wish the author had dug a little deeper into things like...what had Ryder's father done that was so bad? It is alluded to but never really brought out in the light. Also there is a bit about Andie and her mother and especially considering a slight twist towards the end, I would have liked to see Andie's reaction to that in relation to her relationship with her mother brought out more. I think that sort of bleeding on the page would have taken me from a
really enjoyable read
to a
fantastic heart-rending story
. The ingredients were there.
Either way, Andie and Ryder are lovely characters who definitely deserved their happy ending! And while this book is part of a series, it has no trouble standing alone.
Thanks Brenda for sharing Ryder and Andie's story!
And please - let me know in the comments if you've read this book or any of Brenda's, or we can even open up a discussion about Steeple Hill books! I'm open to recommendations. :-) I actually wish I'd bought this in print rather than e-book so I could pass it on to my step-dad, who reads a fair amount of inspirational and sweet romance. I may end up getting a print copy to stick in my next parcel headed his way.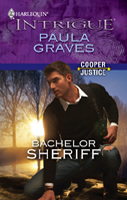 Next month's pick: A look at the Intrigue line with the latest from Paula Graves: Bachelor Sheriff! We'll be coming back here on September 28 to chat! In the meantime, take a peek at the blurb to whet your appetite:
A man of duty and justice, Sheriff Aaron Cooper can't foresee trading his bachelor ways for love. So when he offers an innocent Melissa Draper protection, he doesn't realize what he's signed up for. His cop instincts urge him to stop at nothing to keep the beautiful, passionate woman safe. But the fact that she's suddenly become a target makes him wonder just what she's hiding—from him and from the investigation. Slowly, as Melissa opens up and reveals the horrors of her violent past, Aaron's heart races with the need to make her forget. Even if that means keeping her with him, away from danger... night after night....
Donna's next book goes on sale on the Mills and Boon site September 1. Proud Rancher, Precious Bundle is a Mills and Boon October Cherish release, paired up with Barbara Hannay's latest title.