Today on Must Watch Friday, Fiona Harper gets all nostalgic and delves into her movie treasure chest…
Sometimes you want to see something new and exciting when you turn on the television or go to the cinema; sometimes you just want to turn to old favourites. They're like a cup of hot chocolate, a beloved pair of slippers or a warm bubble bath. Comfort food for the eyes and soul. Romanti
c Comedies do this for me, but my absolute must watch, never get tired of films are Eighties Teen flicks. (Guess I'm giving away my age now, huh? Oh, well…)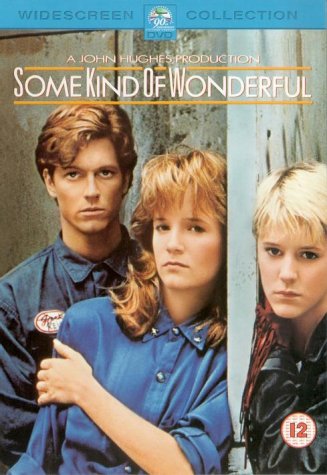 My absolute favourite is

Som
e Kind of Wonderful

. I didn't know why at the time, but now I look back on it, it's probably because the love story works the best for me. Keith (Eric Stoltz) is drea
ming of a date with the popular and beautiful Amanda Jones – a girl way out of his league – and much to everyone's surprise when he asks her out, she says yes (mainly to make her jerky boyfriend livid, but he really deserved it). Keith's faithful best friend is Watts, a tomboy who lives for her drums, but she's harbouring a secret… Despite the fact Keith hardly sees her as a girl, she's had a crush on him for ever. When Keith's big moment arrives, and it's time to impress Amanda Jones with a dream date any girl couldn't resist, he start
s to realise that maybe Miss Jones isn't really his dream date after all…
Rumour has it that John Hughes made Some Kind of Wonderful after the studio producing Pretty In Pink insisted he change the ending (in which best-friend Ducky used to get the girl instead of the i
ndecisive Blaine). I was interested to hear this, because I'd always had mixed feelings about the ending of that film, and had always wondered whether I'd have preferred it if the devoted Ducky should have won Andie's heart. So, a couple of years later, he wrote another script, flipping the sex of the lead part so it was written about a guy torn between two very different girls. In some ways, I'm glad th
ings ended up the way they did – otherwise Some Kind of Wonderful might never have been made.
And there are so many great moments in this film: Watts's drumming to Propaganda's Dr Mabuse as the credits roll (and I love the non-poppy, alternative soundtrack); Keith befriending the detention dudes; Amanda's no-good boyfriend's final comeuppance. Oh,yes. Sweet memories.
Here's a YouTube clip of one of my favourite scenes:




Fiona's new book
The Bridesmaid's Secret
is available now online in the UK and North America and will be in the shops in July!
In her designer suits Jackie Patterson, editor of Gloss! magazine, can take on the world. Yet the moment she arrives in Italy for a big Bella Rosa wedding, and sees her old boyfriend Romano Puccini, her groomed façade disappears. She has a seventeen-year-old secret to tell him from that fateful, sultry Italian summer…