This Friday Donna Alward moves beyond the usual travel show and explores the world - and its food - with Anthony Bourdain.
My next book requires a significant amount of research, which I'm really looking forward to, and so to get a head start I did a search online at the library for materials. One of the items that popped up was a dvd called "Anthony Bourdain - No Reservations Collection 3". (By the way - I'm sorely tempted to look for the other dvd's now).

It starts out with Tony Bourdain's voice saying "I'm Anthony Bourdain. I write, I travel, I eat." He also chain smokes, drinks like a fish, and curses now and again. This show is exactly what I wanted- no travelogue restaurant guide but a travel show that shows the people of cities and countries around the world and the way they eat. We're not talking fancy. We're talking the every day people, in their homes, their diners, their food courts.

Tony also has a fondness for everything pork and a sense of adventure I could never manage. He points out several times that North Americans have a difficult time with gelatinous textures and I have to agree. Some of the things served made me cringe. But then again, sometimes I got incredibly hungry. Like the time he was in Berlin and had a meal in the Turkish quarter. Seeing all those sizzling kebabs and shwarma made my mouth water. Or in Singapore, with the blend of Indian curries with noodle dishes and spicy sauces....happy sigh. How about homemade ravioli in Tuscany? Or chorizo sandwiches from a street vendor in Buenos Aires after a night at the bar? Sucking back Caipirinhas in Sao Paulo?

He even does some great segments within America - New York, Los Angeles, Cleveland, Charleston.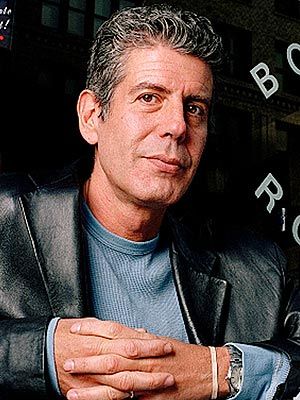 What makes the show is his personality. His trademark line is..."I could eat this all day long." And he has a kooky sense of humour. I have to hand it to a guy that can quote Alighieri and use the word asshat in the same show, and have it make sense. He will do nearly anything - from paragliding to swinging on a trapeze to being tasered by an LA Swat team. The latter which included a quote so funny I nearly laughed my butt off.
Alternatively, it's pure joy watching him stroll down a street in his leather jacket exuding a Leonard Cohenesque vibe. There was just so much about this show to like.

Bourdain loves travel, and people, and food, and it makes for a great combination for some out of the ordinary travel viewing with a focus on wonderful food.

Donna's current release is

Montana, Mistletoe, Marriage

, where her chef hero Mack is not quite as adventurous as Bourdain but quite capable just the same...and in more than the kitchen!