This weekend PHS editor Donna Alward talks about winning, losing, and simply playing the game...
First of all, thank you to everyone who popped by to help celebrate the Pink Heart Society's third birthday! We might as well kick off this post on a high note, so...drum roll please...the winner of our birthday prize is
Caroline Storer
!
Congratulations! If you can
e-mail us
with your snail mail addy, we'll let our authors know and your prizes will be on their way!
Saturdays are Wild Card Weekends, so it seemed a natural fit to talk about playing cards. Especially since I've been playing cards a LOT lately. We have company from Alberta staying with us and our favourite thing to do with them - besides eat - is to break out the cards and play
canasta
. My inlaws taught me how to play but we didn't play very often. Being so far away meant games only when we were visiting maybe once a year. When we discovered that these particular Albertans knew how to play, we were in heaven. One Christmas holiday we stayed up until four in the morning, until we just couldn't play anymore.
This past week and a bit has seen us playing nearly every night. It is always boys against the girls and the boys got a head start. The girls have been slowly gaining ground. One night we had neighbours over, added another deck of cards and taught them to play. The only word for it, I think, is raucous. We had a fantastic time.
While the scorecard has shown the ladies at a disadvantage, personally I've just been having fun. I'm very competitive by nature, but that seems to disappear when playing with them. We just have a good time. We grumble and "whoop and holler" at each other and slap cards down when we make a particularly good play. I of course like coming out on top but at the end of the day it doesn't really matter.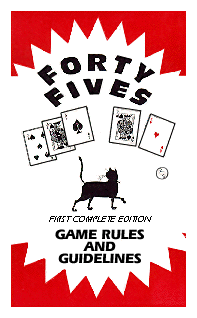 We've also played a little bit of cribbage, but it's definitely been more...well...subdued. I am thinking of teaching them how to play 45's. I haven't played 45's in years - we used to play it when we went for card night at my sister and brother in law's when we were dating. We don't see my sister that often, so cards only happens once a year or so at their place. 45's tends to be a real Maritime game - no one I knew in Alberta had ever even heard of it. But it's a big deal here. My sister had a 45's tournament at her wedding shower. I do find it a bit more challenging - bidding and taking tricks takes a certain skill. We've been known to mix it up and play hearts now and again as well.
Do you guys have card games that you love? Are there some great games that I'm missing?
Donna's newest release is Montana, Mistletoe, Marriage with Patricia Thayer. It is now available at Eharlequin and on the Mills and Boon site.