PHS Editor Donna Alward is back, with future hero casting in the form of actor Peter Facinelli!
Hey all - I know I was here before and blogged about hearthrob phenom Rob Pattinson from Twilight. But personally - I like my guys a little more mature. So while I can appreciate the sexiness of Edward Cullen, the real attraction for me was Carlisle.
I think it's super cool when an actor who perhaps isn't so well known suddenly pops up on everyone's radar and you think GOSH! I didn't know he was in that/married to her/had kids.
In this case, we're talking not vampiric foster kids but real life cuties. Yep, Peter Facinelli is a dad, and devoted husband to Jennie Garth of 90210 fame. Lightbulb! That was where I recognized him from - Jennie's appearance on Dancing With The Stars and Peter always being supportive and super dad!
So let me grab a few of his stats and have some fun with some pics....
New York City-born Peter Facinelli comes from a big Italian family. He and Garth met on the set of "An Unfinished Affair, where Facinelli then played Tim Matheson's son and the target of his father's jealous ex-lover (Jennie Garth).
While he and his wife Jennie Garth welcomed their first child (Luca Bella) in 1997, Facinelli also found his career settling into a comfortable groove. He had a feature role in the Jennifer Love Hewitt teen hit "Can't Hardly Wait" in 1999, and appeared in the sci-fi film "Supernova" starring Kevin Spacey in 2000. Solid roles in "Riding in Cars With Boys" in 2001 and "Scorpion King" in 2002 were soon followed by a leading role in the hit Fox drama "Fastlane", and a second daughter (Lola Ray) for the Facinelli-Garth household. I don't know about you, but I likey the Fastlane longish hair. Verra sexy.
Things got busy - fast. After his recurring role in HBO's critically acclaimed series "Six Feet Under" in 2004, Facinelli tacked a few more films on to his resume, and then starred in A&E's made for TV movie, Touch the Top of the World. The true life story of Erik Weihenmayer, the first blind man ever to reach the top of Mount Everest. Since then, Peter has added a third daughter (Fiona Eve) to his expanding family, and tackled the role of Gregory Malina in FX's hit TV series, "Damages".
After wrapping up "Finding Amanda" with Matthew Broderick, Facinelli joined the cast of the highly anticipated feature film 'Twilight" as Dr. Carlisle Cullen. With another television series for Showtime called "Nurse Jackie", and no sign of slowing down, fans can rest assured that Facinelli will continue to provide the outstanding character portrayals that he is known for, for a long time to come. Facinelli is currently on the set of New Moon reprising his role of Carlisle Cullen.
Personally, I prefer the dark hair to the blonde, and it is true that he looks younger than his 36 years. But I do have a hero in mind. And there are times, in certain pictures, he reminds me of Eric Bana. Check this out - Peter from The Scorpion King and Eric from Troy....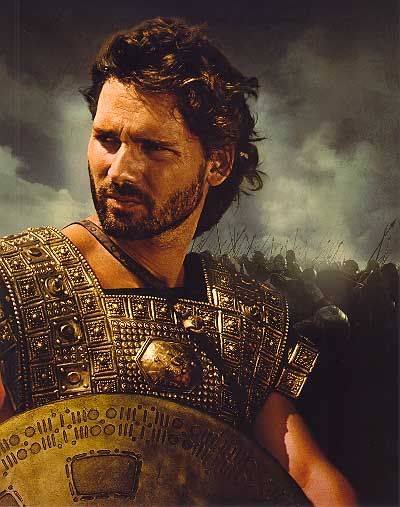 Now wouldn't you like to be the middle of THAT sandwich?
Donna's newest release features her own Italian hero, Luca Fiori. Like Carlisle, Luca tends to be a leader and protector all wrapped up in a whole lotta sexy. And that makes Mari a very lucky heroine...