Nathan Fillion's name is cause alone to turn any show into 'must see' for The Pink Heart Society crew. Every week his new show, Castle, never fails to remind us why he's our favorite hero...second only to Hugh in a towel (and just edging out NatashaOakley's Richard Armitage infatuation).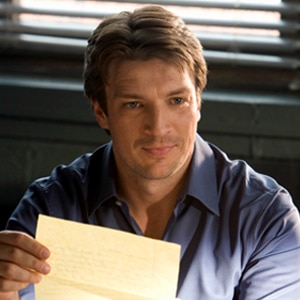 This March, ABC bucked the reality show trend and delivered a one-hour drama with a fresh idea and dynamite delivery. Nathan Fillion stars as Rick Castle, a best-selling thriller novelist who is brought in to help the NYPD solve a serial killer investigation because the murderer is copying the crimes in his books.
Rick Castle is witty, insightful, and quite the handful! He's at a crossroads in his writing life, having just killed off the hero of the franchise that made him famous. He's looking for inspiration, and finds it in the form of detective Kate Beckett, who is more than able to keep him in check. The romantic tension is fantastic, something that's been missing from TV since
Moonlighting
.
Rick and Kate see the cases through completely different lenses. He's coming to it from almost an academic view, while as the daughter of a murder victim, she has an emotional view. He sees each case and an interesting exercise, while for her each case is about her duty to get the family the answers they deserve.
Castle's character is warmed by his devotion to his daughter Alexis, easily the most mature person in a household which also includes his over-the-top former actress mother, and an ex-wife he described as "Auntie Mame with a credit card". While his life is colorful, Kate Beckett's life is down-to-earth and relatable.
This is the perfect show for romance lovers - the larger-than-life hero, the heroine you'd love to have as a best friend, and a situation you can't take your eyes away from. Castle is on Monday nights, and available on the internet soon after. This week they'll be investigating a 20-year-old murder...and playing poker.
For more on Castle, check out Trish Wylie's
My Continuing Crush On Nathan Fillion...
Jenna is hard at work on getting her house ready to sell - it keeps her from thinking about what her editor might think of her next title for Mills & Boon Modern Heat. In the meantime,
Compromising Positions
is available with chocolate, Kama Sutra yoga, a decade old crush and a steady addiction to sugar. To find out what Jenna is up to now...check out her
website
or
blog
.