This week Ally Blake remembers one of Buffy's old squeezes, the delectable, adorable Marc Blucas.
I can't believe this guy was up for grabs!!! Especially with one Ms Trish Wylie, the queen of the fanfic on board, but since he's yet to be highlighted I hereby declare Marc Blucas mine, all mine!!!
Born 11 January 1972, Marc Blucas is the perfect age for an Ally Blake romance hero. Tick one!
At 6'2" he's the perfect height for an Ally Blake romance hero. Tick two!
He once spoke about his "inherant likeability" as being a factor in his casting and he's spot on. Tick three!
And come on, he's gorgeous. Deep husky voice, gentle eyes, big muscles, great smile, more often than not is cast as a protector. He's just about perfect.
Being that I am up early in the morning with bub, I like to have a stash of easy watching stuff on my DVD hard drive to make the bleary eyed wake up routine more bearable, so I recently I recently recorded First Daughter.
It's a cute film, certainly not too much of a brain stretch, Katie Holmes holds up well enough as the President's daughter heading off to college. Then twenty odd minutes into the film, he appears. The hunk in the classroom, the guy who saves her from the stares and whispers by acting the fool. If you don't melt in a puddle of mush in that moment, then I just don't know what!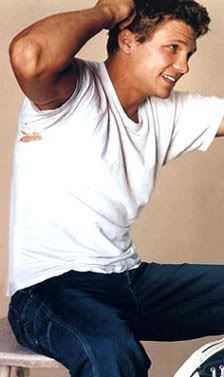 Marc Blucas first came to most of our attentions as hunky Riley Finn on Buffy. College boy by day, military ops vampire fighter by night. So we got to see him do lots of manly stuff in khaki flak jackets. Yum!
Of his audition he says: "To be honest, I was right off the boat. I was kind of like Heather Graham in Bowfinger, like "Where do I go to be a star?" I didn't know what the hell I was doing." But clever Joss Whedon saw something in the long lanky basketball player. Lucky for us!
And then there was the recent Jane Austen Book Club. I'd forgotten he'd played Emily Blunt's husband as he was all grown up, and not the sweet charmer he usually played. So the guy can play different archetypes.
TRIVIA
Apart from acting, he has been coaching the basketball team of a private all-girls Catholic High School, Marymount High School, in Los Angeles since 2005.
In 2005 he dated Lauren Graham which just ups his coolness in my opinion. (He wears facial hair really well too don't you think?)
Now, unfortunately for the rest of us, he is dating reporter Ryan Haddon who was previously married to Christian Slater.
But I'm convinced, he's a keeper. Warm, engaging, just below to radar enough to be truly intriguing, and cute as a button. Welcome Marc Blucas to the PHS Hero Hall of Fame!
This month Ally has a Harlequin Presents novel, A NIGHT WITH THE SOCIETY PLAYBOY, out in North America.
Though she cast a different hottie in the role while writing him, she wouldn't have had any trouble writing her Caleb with the above fellow in mind ;).
For more about the book check out Ally's website, or grab a copy from your local bookstore or online from eHarlequin.