Every year People magazine blesses us with a collection of sexy men...since Male On Monday is every PHS member's favorite day of the week, I'm sure not one of you has missed the news.

The Pink Heart Society

's favorite man in a towel, Hugh Jackman, was deemed sexiest man alive!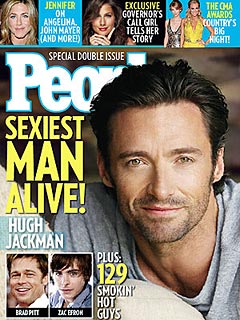 Such honor deserves a montage of Hugh, don't you agree? The only problem is we've enjoyed his so thoroughly...in Trish's
Male On Monday
...as the rougish Eddie in Friday Film favorite
Someone Like You
...as a romance novelist in
Paperback Hero
...the dashing duke in
Kate & Leopold
...we even celebrated out birthday with a
Hugh Jackman Day blog tour
!
With the impending release of the epic
Australia
, and the teasers showing Hugh looking better than ever, I think everyone will agree he's at the top of his game. Them movie we all can't wait to see won't hit theaters until Thanksgiving...which give us the weekend to revel in a Sexiest Man Alive video binge...
Paperback Hero
is a great place to start...pick up
Happy Feet
to watch with any kids that might be about (he voiced the pengiun, Memphis)...if there are any men grazing through your life who might balk to such soft fare, check out any of the
X-Men
movies -- it will whet your appetite for the upcoming
X-Men Origins: Wolverine
.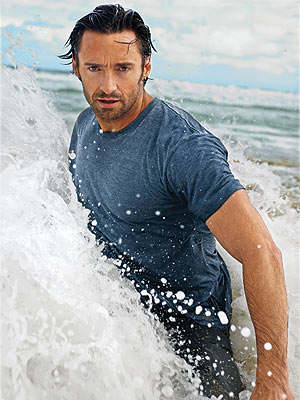 The Prestige
is a movie that will have you pondering for hours...the magic, the fantasy, the tragedy...it's a dark story, but one that leaves you spellbound.
Scoop
, a Woody Allen romantic comedy mashed up with a murder mystery is worth watching. It's more odd than funny, and the mystery element isn't all it could be, but as long as you aren't expecting too much it's a fun watch.
It's hard to make a bad choice when going on a Hugh Jackman bender. Just don't watch
Van Helsing
too close to bed time!
Jenna is hoping to finish her NaNoWriMo novel on time – so far it has cake, champagne and moonlight. In the meantime,
Par For The Course
is out, with car sex, an interesting approach to learning to golf, and a love story hazardous to your hankie supply. Oh, plus exploding toads… Check out Jenna's
website
, or
blog
.