This Halloween, Jenna and Donna are here to talk about some of their spookiest favourites...
Donna:
OK, I admit it. I'm not much of a Halloween person. I'm pretty sure Jenna is, so I'll let her wax on about pumpkins and costumes and such. I'm gonna head straight for the scary - my favourite scary books and movies.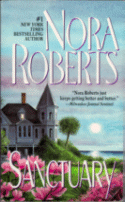 I haven't read a lot of suspense that scared the hell out of me, but the first Nora Roberts I ever read was Sanctuary and it was creepy as all get out for me. Maybe it was the atmosphere...after all, we're on an island, a hurricane blows in and there's no way on and off. And the villian is...well, let's just say I read lots of Nora after reading that one book. The only one of hers creepier that I've read is River's Edge....wooooo.
Now if I'm really going to go for the dark kind of literature, my favourite has to be Edgar Allen Poe. I had a high school english teacher read The Raven aloud and was like WOW. I moved on to The Cask of Amontillado and The Fall of the House of Usher...Love POE. Enough that I bought the complete works.
The first movie I watched that scared the bejeesus out of me was THE SHINING. Could I have had a better initiation? Not likely. I was all of eight. I watched it with my best friend and my dad. When he took a bathroom break, we waited outside the door. We were well and truly scared out of our pants. Who can forget REDRUM? *shudders*
In junior high school, I really got into the horror. I watched Friday the 13th in its various incarnations at a friend's house - usually about four of us in the basement, and his mum would make us popcorn. One time two of us went to watch a movie and at the point where Jason jumps out, another friend who had been hiding jumped out dressed like Jason brandishing a knife. I didn't pass out, but I did scream and we never forgot it.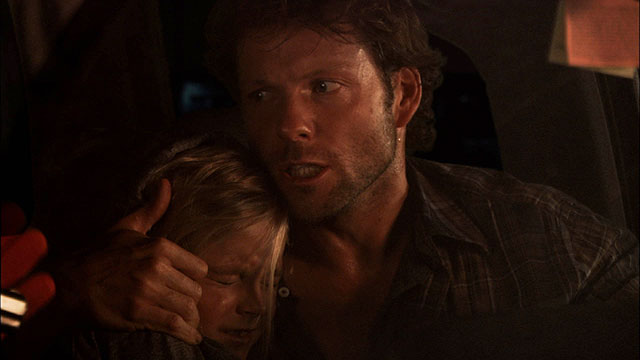 The next horror flick I intend on watching is PULSE 2. For purely personal, fangirl reasons. This is a project Jamie Bamber worked on in the offseason from Battlestar Galactica. Not sure how good it is, but it's worth it just to see JB in my opinion.
Please post in the comments about spooky books or movies you love (or hate!)! Now on to Jenna....
Horror movies and thriller novels are so not in my bag of tricks. I stick strictly to romance novels and mini-Snickers bars. The scariest thing I do is trick-or-treat with ten kids under seven. If someone missed a nap, it can be horrifying...
Like I mentioned earlier this week, I love the crafty, decorating bits of Halloween. Pumpkin carving, passing out candy, making a tombstone cake...that's my kind of Halloween.
Costumes are my favorite part. It's the only time grown-ups get to play dress-up! My kiddos usually have two costumes each, because I am a sucker who figures it adds to the dress-up chest anyway. I might be seen with a pirate, race car driver, clown, leopard, pumpkin, or dragon...it's part of my own disguise...
I can even con my husband into the action. Ever since the neighborhood dad's realized one year that if they just wore a colored t-shirt they could be The Wiggles, he doesn't balk. Much. Though he does prefer something easy, like doctor scrubs...
I prefer to go for a joke...especially when we have an adult Halloween party to go to. Some people can rock Catwoman, others need to keep the green haired witch costume...
You'll never recognize me. I could straighten my hair and go as Sarah Palin. I might brosh my hair into a fro, toss on a tie-dye shirt and be a hippy. I still have a toga from college...or I might match the Hubba Bubba's doctor scrubs. That might be too saccharine even for Halloween...
What was the best Halloween costume you ever wore?