Carrie Bradshaw managed it with Mr Big, getting both the millionaire and the "really big closet" she always dreamed of. So in an effort to find out what happens after the happily ever after, Ally Blake decided to see what life as a millionaire's bride is really like… And discovered that on the whole she'd on the whole rather read about them in books!
FIRST YOU GOTTA MEET ONE
Working for the man isn't just a romance novel contrivance,. It works! Melinda French was working for Microsoft when she met Bill Gates at a Microsoft press event in 1987. 32 year old Wendi Deng was a junior executive at News Corp.'s Star TV in Hong Kong when she met then married 68-year-old News Corp. Chairman Rupert Murdoch.
Though if you are gorgeous and kinda famous it also gives you access to ways to land yourself a millionaire. Big shock!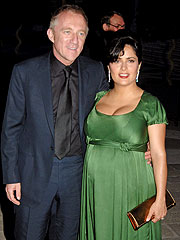 French billionaire Francois Pinault's son Francois-Henri, is engaged to movie star Salma Hayek, who recenlty had his baby. Federal Reserve Board Chairman Alan Greenspan met NBC reporter Andrea Mitchell when she interviewed him about the future of Social Security. Greenspan asked her out two days later. Actress Ellen Barkin married thrice divorced Ron Perelman, an exectutive at cosmetic giant Revlon.
Kelly Rowan, from The O.C. recently had a baby with Canada's richest man, media baron David Thomson. And Swiss tycoon Ernesto Bertarelli's wife Kirsty is a former Miss U.K.
The details of how Carolyn Bessette met JFK Jr are unclear. One tale says they met while jogging in Central Park; another says they were introduced when he was shopping for suits at Calvin Klein's, where she worked as a publicist.
And Australia's richest man, media mogul come casino builder James Packer, met his second - and current - wife Erica Baxter at his first wedding! She was his best friend's date. Now that kinda sounds like something I could work with ;).
But then again our Mary, a real estate agent did meet Crown Prince Frederik of Denmark in a pub in Sydney.
THEN YOU GET TO MARRY ONE...
Erica Baxter and James Packer married in a civil cermony attended by only one wistness. But in the same week they redid the whole kit and caboodle in a stunning French Riviera wedding which cost a reported $2m. The days of celebrations were closely watched by clebe photographers as it was attended by dozens of their closest mates including Australia's richest young thangs as well as Tom Cruise and Katie Holmes. The bride wore Galliano.
Mary and Frederik's nuptials were filmed and shown live across the world. The entire ceremony was conducted in Danish, which the bride had spent time learning beforehand and the TV coverage was narrated in English! She looked regal while the groom infamously cried the whole way through. We all fell a little bit in love with him that day.
Notoriously private, JFK Jr chose a small island off the coast of Georgia. The tiny wooden First African Baptist Church, had peeling paint, a sagging ceiling and no electricity and contained only eight pews. Doesn't that just sound heavenly? The big money was spent on security. For about $250,000 he coordinated a 50-member security team, state troopers, the police and the National Park Service for the five days prior to the wedding. The bride wore a stunningly simple gown by Narsisco Rodriguez.
Greenspan and his bride married at the Inn at Little Washington in in the Blue Ridge Mountains. Guests included Barbara Walters, and Henry Kissinger. Supreme Court Justice Ruth Bader Ginsburg officiated at the ceremony.
Rupert Murdoch doesn't waste time. Just 17 days after his divorce from his second wife he married his Wendi on his 155-foot yacht, The Morning Glory, off of Manhattan's Chelsea Piers while fireworks exploded in the harbor. The bride wore an ivory-colored dress and no shoes.
NOW YOU'VE GOT THE GUY WHAT DO YOU DO WITH YOUR TIME?
Wendi Deng, a Yale gradutate with an MBA, has recently become a director and chief strategist for the holding company that licences the MySpace brand throughout China. Good for her! She and Rupert also have two daughters under the age of eight. Rupert is 77.
Erica Packer has tried to launch a singing career. It is currently on hold as she's had a baby and is now planning to concentrate on charity work. Her firend Sarah Murdoch, former Wonderbra model, married to Rupert's son Lachlan, does a little TV work, is patron of Australia's National Breast Cancer Foundation and joined The Australian Ballet Board of Directors in 2006. She and Lachlan have 2 sons.
Melinda Gates has taken it upon herself to give huge portions of the Gates's fortune to charity. By creating the Bill & Melinda Gates Foundation they aim to "enhance healthcare and reduce extreme poverty, and, in the United States, to expand educational opportunities and access to information technology". To date they have donated more than $39 billion.
CAN MILLIONAIRES HAVE HAPPILY EVER AFTERS?
JFK Jr and his bride died in an infamous plane crash off Martha's Vineyard. His uncle, Senator Ted Kennedy, said, "We dared to think that this John Kennedy would live to comb gray hair, with his beloved Carolyn by his side. But, like his father, he had every gift but length of years."
Ron Perelman is now four times divorced after splitting from Ellen Barkin in 2006. According to reports he served her the papers out of the blue, and in a timely fashion to owe her less money than he would have had they remained married any longer according to the pre-nuptial agreement.
Mary and Frederik have two beautiful children, Christian and Isabella, they seem a really adorable strong young family. But if she ever files for divorce in the pre-nup she supposedly had to give up control of her children.
I for one am convinced that on the whole the romantic fantasy millionaire is the winner ;). How about you?
Ally's current release is Relaciones Peligrosas, otherwsie known as Falling for the Rebel Heir, in Spanish.
Her hero Hud is a millionaire but she is certain the future for him and his bride will be nothing but rosy!
You can read an excerpt at her website, or buy the book here...