PHS editor Jenna Bayley-Burke sets out to find the best of the best for reading this summer. What do you suggest?
There is something about summertime that demands a good book. Something to occupy your mind while your body lounges poolside...or is stuck in the bleachers at a kids soccer camp practice. Whatever.
The last issue of Real Simple magazine polled ten novelists to see what they reccomend reading for the summer - even breaking the books down into ONE DAY READS, LONG WEEKEND BOOKS, SAVOR ALL SUMMER, and BOOKS TO DIP IN AND OUT OF.
Always on the lookout for a good book, I quickly circled what sounded good (Sophie Kinsella & Danielle Steel made some great reccomendations, but I think my taste is most like Jackie Collins. Who knew?).
Then I got to thinking...I know a bunch of authors, some of them even bounce by my blog on occasion. Here's an assignment for writers and readers alike, a brand new meme that actually serves a purpose...SUMMER READING SUGGESTIONS!
Jackie Collins suggests...
ONE DAY READS -
Whacked
by Jules Asner
Janet Evanovich suggests...
LONG WEEKEND BOOKS -
The Two Minute Rule
by Robert Crais
Sophie Kinsella suggests...
BOOKS TO SAVOR ALL SUMMER - Jane Austen - The Complete Novels
Jodi Picoult suggests...
BOOKS TO DIP IN AND OUT OF -
The Best American Short Stories
Jenna Bayley-Burke suggests...
ONE DAY READS -
Wife For A Week
by Kelly Hunter or
Contracted: A Wife For The Bedroom by Carol Marinelli
LONG WEEKEND BOOKS -
Tangled up In You
by Rachel Gibson or
Underneath It All by Lori Borrill
SAVOR ALL SUMMER -
The Secret
or
Rejection Romance and Royalties by Laura Resnick
BOOKS TO DIP IN AND OUT OF - Dreams & Desires short story anthology
Don't take just my word for it! There are lots of ways to find great books to read. Reccomendations are my favorite way. I use ::
And of course, you could always scan the last paragraph of the posts here at the PHS to see the latest releases from your favorite contributing authors (wink, wink). So...what do you plan on reading this summer?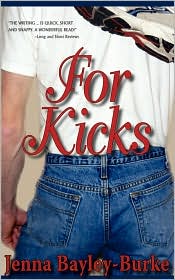 Jenna is hard at work on her next title for Mills & Boon Modern Heat. In the meantime, For Kicks is available with a bubble baths, hotel suites, a deck of Tarot cards, skinny dipping, and a hot phone sex scene.
Check out her
website
, or
blog