Pink Heart Society

editor

Jenna Bayley-Burke

is here today wondering just how much attention readers pay to reviews (the good, the bad, and the indecent) and book awards. You know, because before she started this writing gig, she never looked beyond what was written on a cover...
There are tons of them out there. Review sites. Writing contests. Book contests. I'm still trying to figure out how a writer is supposed to know which review sites readers actually, you know, read, and which contests might give you a grain of industry respect. This is mainly because before entering the industry, I wasn't aware either existed.
Yes, I knew books got reviewed. I'd seen a handful in my local paper - never romance. The closest I came to a romance review was the one line reccomendation on the front of a book. You know "Lovely" and then an author name you may have heard of. Needless to say, reviews and awards have never cluttered my opinion of what to read next.
Now that I'm in the business, I need to know which reviewers are respected, which get the most reads, which translate into sales, which contests turn the heads of industry bigwigs...the list goes on. It's quite daunting. How do you know which to pay attention to and which to ignore?
With both print and online review sites there are many choices of where to have your book read and talked about. However, just because a website bills itself as a review site doesn't mean it's reviews are read by anyone other than the author. And some sites are more about entertainment than informing which books to read and which to pass on.
Contests are a better bet when it comes to finding great reads...but they're not as easily accessible. Each one is annual, so by the time the announcement of finalists are made some category titles can be next to impossible to find.
At last count I think there were about twenty contests for published romances. Only a few of those get instant respect - RNA prize, RUBY, RITA, Holt Medallion, Booksellers Best, National Readers Choice. Some books fare better in contests, others reviews, and still others in sales.
With the RITA awards just over a month away, I'm excited to find out the winner. What do you think of reviews and contests? Which review sites do you look to for reading reccomendations? Which contests have you reading the entire list of finalists?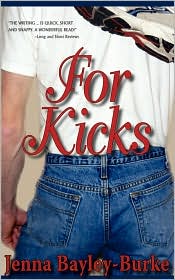 Jenna is hard at work on her next title for Mills & Boon Modern Heat. In the meantime, For Kicks is available with a bubble baths, hotel suites, a deck of Tarot cards, skinny dipping, and a hot phone sex scene.
Check out her
website
, or
blog