This week's Friday Film is the sixth in the Harlequin Mills & Boon adaptations made for TV in the early 90s, Treacherous Beauties, reviewed by Bronwyn Jameson.
When I checked the cover blurb for Treacherous Beauties, I clapped my hands with glee. A mystery to be solved, a dangerous attraction, and set against the backdrop of a thoroughbred stud farm. My kind of film and slightly serendipitous, as I picked up the DVD to watch the same day I'd blogged about the upcoming Silhouette Special Edition series
Thoroughbred Legacy
.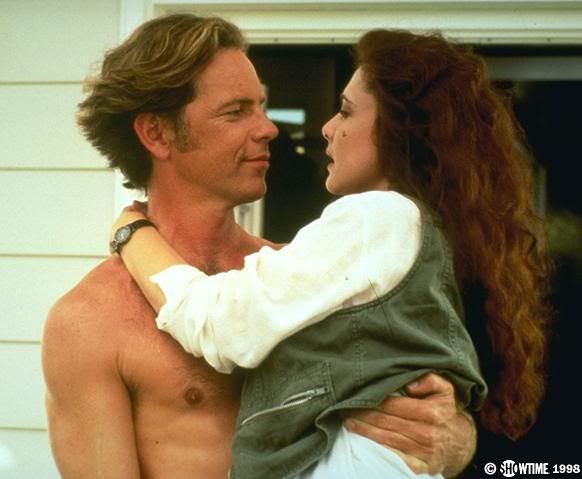 According to one website link, Treacherous Beauties was the first of the 12 Harlequin movies made and was aired a few short months after filming in 1994. Sadly that haste shows, in the script, the acting, the editing. But that didn't stop me enjoying the high melodrama or lusting after the fabulous stable complex.
The movie stars popular soap actress
Emma Samms
as photojournalist Anne Marie Kerr who learns that her only family, brother Alan, has been shot and killed in an alleged hunting accident. Anne Marie's suspicions are aroused by a visit from a woman claiming to be Alan's fiance. Tiffany believes that Alan's employee, the powerful, moneyed Jason Hollister, is responsible for his death.

Anne Marie arrives at the small town of Devil's Gorge--and, yes, there is a slight air of gothic to the movie's tone--and rents Alan's cabin under an assumed name. Using her talent with a camera she secures a job photographing the Hollister horses and preparing a catalogue for an upcoming auction. She meets the family matriarch played by Tippi Hedren, the charming younger son Brent (Mark Humphrey) and his beautiful, polished wife Simone (Catherine Oxenburg.)
Finally she meets Jason, played (often
sans
-shirt) by
Bruce Greenwood
. He is set up as mysterious, autocratic and fierce tempered. It's obvious that something shady is going on at Hollister Stables, and that this may be linked to Alan's death, but gathering evidence will not be easy. The family owns the town. There has been a less-than-thorough investigation. And although Jason might often forget to put a shirt on, he is no fool and Anne Marie's arrival in town has raised his suspicions.
Watching this movie was an interesting experience. It felt almost as though I was reading a romance novel told entirely (apart from the omniscient opening) from the heroine's viewpoint. This added to the gothic, old-fashioned feel and increased the air of dangerous mystery that surrounded Jason. The major romantic conflict was an issue of extreme trust: Anne Marie was attracted to the man who may have killed her brother. There is much drama--even melodrama--as the truth unfolds and the attraction heats up.
Anne Marie is a heroine to admire. Plucky, courageous, driven to discover the truth. Unfortunately she also succumbs to several TSTL moments, which leads to the exposure of her true identity and an attempt on her life. I have to say that the who-shot-Alan mystery plot was not as engaging or suspenseful as it could have been, but the romance and the family dynamics provided a dramatic counterpoint. Not a good movie, but an interesting viewing experience for any fan of category romance.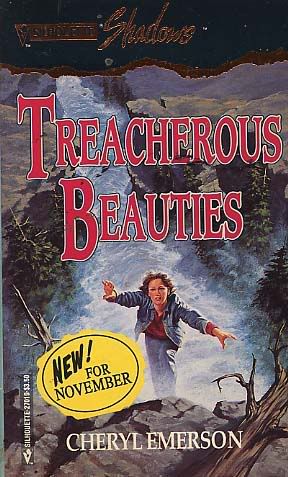 Treacherous Beauties is adapted from a 1993 Silhouette Shadows of the same title. It appears to be the only published book by Cheryl Emerson.
Horses are one thing I find hard to resist if mentioned in a book or movie blurb. Is there an element, a job or a setting that you find nigh impossible to resist? And are you even more picky about the details and any research inadequacies because of your intense interest in the subject?

Bronwyn Jameson's latest release
Tycoon's One-Night Revenge
features her version of a dangerous mystery man in Donovan Keane. A spin-off from her 2005 trilogy,
Princes of the Outback
, this Silhouette Desire is a June release in Australia and still available in America. Check
her website
for details.