In a recent poll plastic surgeons the word over claimed the name most mentioned by their male clients as to who they most wanted to look like was his. By a huuuuge margin. So, for your viewing pleasure,
Ally Blake
presents to you…
Brad Pitt
.
Can you believe we are a year and a half in and this guy has not yet been done? He's a blonde haired blue eyed hunky son of a gun. For all intents and purposes he's taken, but the fact that he's not married leaves room for maneuvering which is always a help. And come on, he's one of the sexiest men on the planet right?
THE BEGINNINGS…
Born William Bradley Pitt in Oklahoma on 18 December 1963, Brad Pitt is a touch over six foot. Right, hero stats so far so good. Before his acting success he worked driving strippers in limos, moving refrigerators and dressing as a giant chicken while working for "el Pollo Loco." So far I'm smiling, how about you?

THE MOVIES…
Did you know that early on our Brad appeared in 21 Jump Street alongside Johnny Depp? In a few episodes of Dallas as a character named Randy? And in two episodes of Growing Pains as two completely different characters?
Brad first came to my attention in Thelma and Louise. Hooooey the guy was hot hot hot. That sexy smile, those baby blues, the six-pack, the charm, the way he wore those jeans. Mmmm mmm. As drifter JD, the man who makes a woman of Thelma, then makes criminal of her by stealing all her money, the guy came close to stealing the show and that's saying something considering the subject matter and powerhouse performances of all in that fantabulous movie.

From that he moved onto starring roles in moves good: Fight Club, Spy Game, Snatch (with a hilarious unintelligible accent that made the part) and bad: Meet Joe Black, Cool World, The Mexican.

Troy, one of the worst movies ever made. Yet in it Brad was the one redeeming feature. The guy can really act. As heroic Achilles he was masculine, heroic, smooth and very touching. And if a guy in a skirt can be sexy then that's saying something!

And then Ocean's Eleven cemented him as a modern day Rat Packer. And it has shown the guy can be really funny! He and George Clooney on screen together is enough to warm any women's cheeks, but then when that repartee starts swinging back and forth, a woman's brain comes into play as well. The lazy walk, the laid-back linen suits, the smarts. Rusty is his piece de resistance.

THE WOMEN…

Our Brad was once upon a time the perennial fiancé. It all started with Juliette Lewis who he met on the set of the NBC movie of the week Too Young to Die? and then worked with on the kinda forgettable Kalifornia. Then it was Gwyneth Paltrow who he met on the set of the fantabulous Seven.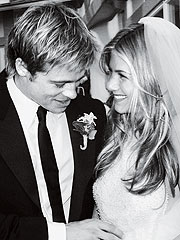 And then came our Jen. Jennifer Aniston did the impossible. She got the ungettable get. She married the guy. The only one he married he met on a blind date arranged by his agent. Interesting… They only released the one wedding picture, thus satisfying the public's need to now and keeping their day private at the same time. Clever, clever pair. In us Weekly he as quoted as saying "
Being married means I can break wind and eat ice cream in bed." Maybe that's where it all went wrong ;).

He and Jen were married for almost five years until Brad did the unforgivable. He left our heroine for the bad girl. Angelina Jolie. The vamp. The one who is meant to try to steal him away but fail miserably.
Can we forgive this? I'm not sure I have even yet. Even though he and the bad girl have become a family, which only adds great dad to the mix of hero qualities. He's a complicated one this one. And don't we all love a complicated hero?
TRIVIA…
Has his teeth capped.
He took Greek language lessons in secret to surprise Jennifer Aniston who is of Greek ancestry.

Without being asked to, he made an appearance on MTV's Jackass where he did stunts with the cast, dressed in an ape outfit.

Donated 5 million dollars of his own money to rebuild homes in Katrina-ravaged New Orleans.

Initially didn't want to appear in Mr. & Mrs. Smith, although it was he who gave the script to director Doug Liman.

THE VERDICT…

He made $20,000,000 making Mr. and Mrs. Smith. A catch? Well, I'll let you be the judge ;).

Ally's latest novel THE MAGNATE'S INDECENT PROPOSAL is her third Modern Heat and is out in the UK as we speak!
Grab a copy now to find out what happens when a gorgeous, entirely too privileged for his own good, Luddite in a suit meets a lively dog groomer with persistent shampoo stains on her skirt and a past filled with disappointing men. Throw in matching mobile phones and match-making friends and you'll get yourself a Modern Heat!
Read an excerpt on her brand spanking new website, or better yet, go buy the thing! You can get it online now at Mills and Boon.