This week's must see film is an oldie but a goodie. It has passion, it has suspense, it has laughs, it has a faaaantastic soundtrack, it has youthful exhuberance, it has paranormal elements (which are huuuuge in romantic fiction right now), and it has romance. This week PHS ed Ally Blake brings you: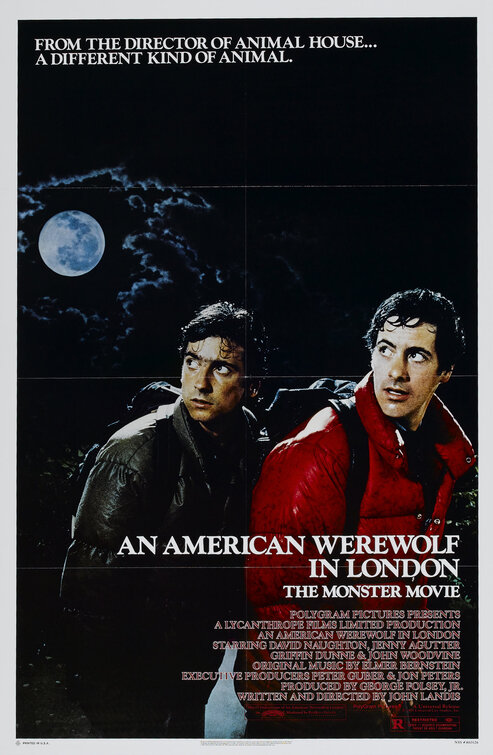 AN AMERICAN WEREWOLF IN LONDON

Boy was that tricky finding a movie poster that wouldn't scare the bejeezers out of everyone when they clicked onto our site! Okay, so this may not be our usual Pink Heart Society fare. But it has a romance. And it's a film I like. So there.
THE STORY

Written and directed by John Landis who also brought you Blues Brothers, Spies Like Us and Animal House, this movie was an instant classic in 1981 when it was released. We start out with two possible heroes: David Kessler and Jack Goodman (David Naughton and Griffin Dunne) .
Two handsome, funny young American lads backpacking on the English moors. They land in a local pub, the Slaughtered Lamb. And we soon realize it is not as typical as we first expect. The locals are less than friendly, though they do at least warn our heroes that walking on the moors at night can be hazardous to their health.

But our hero (okay, now remember this photo was taken in the early eighties!!!) and his friend are manly men and feel as invincible as young men abroad for the first time must. Pity this doesn't stop them from being attacked by some kind of wild beast that finds them in the mist, mauling one to death and injuring the other. Eek! And I warn you it's soooooo scary it took me about ten years of trying to watch this movie to even get through the first fifteen minutes!!!

But get through this and our hero David wakes up in a London hospital. And this is where he meets our heroine, Nurse Alex Price. (The make-up. The hair! The early eighties!!!)
David is cut to ribbons yet his flirt gene has not been impeded. He is having horrific nightmares and our lovely young nurse feels for him. Enough that when he is discharged she takes him home with her! It doesn't take long for our couple to take their relationship to the next step.
And not that much longer before David's dead friend Jack begins to visit him, telling him the creature that attacked them was a werewolf and since he has been bitten, our hero will soon become one himself. These visits are delightful. Grisly to be sure (this movie won an Oscar for best make-up and it ain't of the pretty blush and mascara kind!). But hilarious. The tongue in cheek nature of the script and the acting lends the out of this world subject matter a sweet balance.
Naturally our hero thinks he's hallucinating, until a series of grisly murders takes place in and around London including a seriously scary scene in a train station, much of it filmed from a werewolf's POV (I have goosebumps just thinking about it!) leading up to the full moon culminating with David waking up naked in the wolf enclosure of the zoo.
Could his best mate be right? Might he truly be a werewolf? Right when he's found the woman of his dreams? And no it's not as silly as it sounds!!! It is handled with humour, and resonance, and sadness, and serious poignancy. The last phone call home to his parents to find he can only talk to his bratty little sister will give you a lump in your throat.
(calling home from a red telephone box) Hello? Rachel? Just say yes, you'll accept the charges. Just say yes, Rachel. Is Mom or Dad home? Where are they? Where's Max? You're all alone? Mom and Dad would never leave me alone when I was ten. No, not ten and a half, either. I'm still in London. I'm all better. Look, would you tell Mom and Dad that I love them? I don't care, Rachel, just do it for me. Okay? Good. And, Rachel, don't fight with Max. Well, try. Look, kid, please don't forget to tell Mom and Dad I love them. I love Max and you, too. Well, I do. No, I'm not being weird, you little creep. You promise? Okay. Be a good girl. I love you. Bye.
And that leads us to the great climax of the movie. Nighttime. A full moon. And David begins to feel a twinge…

This movie won an Oscar for Best Make-up. And even now, 27 odd years later you can see why. The effects while crude compared with what could be achieve today are amazing. They are realistic, they are measured, they don't hold any punches or hide behind quick cuts, and best of all they're scary as all get out! (I made this piccie small on purpose!!!)

THE SOUNDTRACK

…by Elmer Bernstein is faaaabulous! Inspired! Perfect. With songs like Running Through The Forest, Moondance, Bad Moon Rising and Blue Moon (during the transformation scene itself), there is not one note that hasn't been thought through to make this film a cohesive whole.

From the misty moors of middle of nowhere England to the garish slick set of Piccadilly Circus for the final dramatic scene, this movie makes a postcard of England. If backpackers could look past the whole werewolf angle, they'd be crazy not to want to visit ;).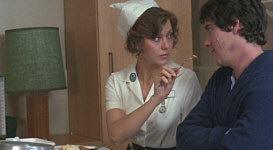 THE ROMANCE
And I really like the romance within. David is strong and funny. Nurse Price is the epitome of the uptight librarian, all pinned up bun and seriousness at work yet she lets down her hair to become a real woman, lonesome, attracted to the strange stranger and then finally in love. The romance is natural, it's funny, and it's real. For a film that asks you to suspend your disbelief in a big way, the ending (which I ain't gonna give away) is terribly poignant and that's all because the romance while quick and brief is believable.
THE TRAILER



Grab a box of tissues, prepare to not ask too many questions, tickle your funny bone, stamp down your queasy gene and rent it today.

Warm and fuzzy rating: well it has to be the literally fuzziest movie we've reviewed!

Ally's latest release, the super sexy THE MAGNATE'S INDECENT PROPOSAL, is out now in the UK.

Grab a copy now to find out what happens when a gorgeous, entirely too privileged for his own good, Luddite in a suit meets a lively dog groomer with persistent shampoo stains on her skirt and a past filled with disappointing men. Throw in matching mobile phones and match-making friends and you'll get yourself a Modern Heat!

Check out an excerpt, the Dear Reader letter, pictures of the hero and heroine inspiration and more at Ally's website today!