Medical

and

Desire

author Olivia Gates makes her

Pink Heart Society

debut to share with us her love for the movie Enchanted.
It's been so long since I came out of a movie theater so filled with good adrenaline that I wanted to pirouette my pleasure and sing out the snippets of song the movie has left lingering in my mind. In fact, I don't remember a movie affecting me this way since The Sound of Music, which I saw for the first time when I was fourteen!
So, OK, a lot of movies leave me with a smile on my face. But no movie has left me feeling good with a capital G like that. And it had that same effect on the many, not to mention disparate, people I dragged to see the movie with me the four times I've seen it. Each and every one of them came out feeling they'd exited a sweet dream, smiling, lighter and humming the songs and repeating the memorable lines in the movie.
And the movie that did us all that huge favor?
Enchanted
. The ultimate romantic fairytale, as Disney have woven it into our collective minds, come to life. Literally.
In the 11 animated minutes of the movie, would-be Princess Giselle sits around singing with the woodland creatures, while waiting for her prince to come along. No sooner does she finish singing, than Prince Edward does come along, following the script dictated by the fairytale manifesto. After a fracas with a troll who wanted to have her for a snack, she literally falls into Edward's lap, and they immediately 'finish each other's duet', exchange 'true love's kiss' and decide to get married the next day. But Prince Edward, of course, has a Wicked Stepmother. Said WSM will lose her crown if Eddie boy marries. Now, being wicked, she takes steps to prevent that. With the old wishing well trick and disguised as a hag, the WSM casts Giselle to a land in which happy endings do not exist: Earth.
Hurled from her make-believe world, Giselle literally comes to life and exits through a manhole into the all-too-real streets of Manhattan. This is when the fun begins.
She wanders NYC, totally confused and vulnerable, searching for a way back home. As she thinks she's found a portal leading there, she again literally falls into the lap of McDreamy …uh…ahem…Robert, a divorced, single-father, divorce lawyer, who under the influence of his daughter's beseeching and his own chivalry, ends up taking her home. When he doesn't have the heart to send her on her way, what follows is one clash after another of opposites, of no-expectations realism versus fantasy-oriented optimism, as Giselle invades the lives of all the jaded people around her with her exuberance and innocence, while they in return temper her naïveté and help her grow up in ways Snow White and Aurora couldn't have even conceive.
During the unfolding of the fun, there is a fantastic sequence when Giselle decides to clean up Robert's apartment. She throws open a window and calls out to her usual domestic helpers. But since this is NYC, she ends up with an apartment full of rats, pigeons and cockroaches, who do an ingenious job of cleaning the mess. The happy working song is priceless from start to finish.
As the movie flows, the two opposites move gradually to a meeting point. Giselle finds herself being drawn away from the indoctrination of the fantasy and to the highly imperfect and cynical Robert, and discovers how complicated, demanding and even frightening love really is. And as he falls in love with the pure-hearted, life-embracing Giselle, Robert begins to dare to loosen up, to trust and even to dream again. In the backdrop of all those lighthearted if poignant developments, Prince Edward is charging to Giselle's rescue. And despite all of Nathaniel's, the WSM's henchman, elaborate attempts to throw him off her trail, and blessed by the luck and coincidence only a fairy prince can have, he eventually finds her. And the final detour from the fantasy formula occurs.
Giselle realizes she'd rather gamble on a love that is based, not on magical and unsubstantiated compatibility, but on the precarious criteria of appreciation and acceptance, of shared experiences and sense of humor, of unstoppable chemistry and realistic expectations, and discovers this is all that it takes to create a love that's willing to sacrifice everything for the other. So she embraces it even with no guarantees of ever after, or anything else for that matter.
And this is where the movie so much resembles our own books.
Our own romances, no matter the degree of the fantasy element they contain, all have that leap of faith, that willingness to go the distance, to discover and give the best of oneself. And they always give the hope that if we follow the prodding of our heart when our mind has so much to approve of, (and the body is certainly willing, too! :-D) and go all out to meet the other halfway, a personalized happily ever after is indeed attainable.
In
Enchanted
, Disney made a movie that both upholds the standards that made Disney a worldwide icon, while making fun of those very traditions, big time. And it works, spectacularly. Everything managed to weave a magical web of vivacity and joy. I can't imagine anyone with a pulse or a heart who wouldn't enjoy Enchanted.
I can't end this without specifying what, for me, made
Enchanted
so magical. Simply, it's the masterful casting, from the smallest, non-speaking roles to the stars. The cast is amazing and I can't imagine anyone else filling these roles.
Amy Adams brings the naïve Disney Princess to full life, without a flicker of tongue-in-cheek, and infuses the character with a level of loveliness and spunk that keeps her from being predictable. And she holds her own with the best voices that sang Disney's memorable Princesses' songs.
Patrick Dempsey is convincing and sympathetic as well as delicious as the resigned, jaded single-father who gradually regains his joie de vivre and his inner dreamer.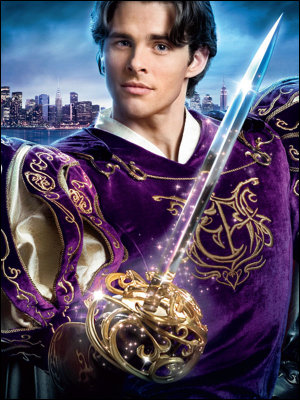 James Marsden is an absolute hoot as the obliviously haughty and overconfident prince, a delightful doofus as two-dimensional as the realm that spawned him. Who would have thought the most boring X-Man would end up being so much fun? And such a musical talent, too? His voice and singing skills simply stunned me.
Susan Sarandon is, as usual, incredible, the eternal female, and perfectly, delightfully evil. Timothy Spall is wonderfully pitiful and despicable as the evil queen's thrall and wannabe lover.
And most of all, Pip! A CGI chipmunk who is the ultimate in cuteness and spunk and loyalty and resourcefulness, who gave the theatre many laugh out loud moments. We still imitate the parts when, robbed of his speech ability in the real world, he kept trying to mime the plot Nathaniel was hatching to get rid of Giselle to the zealously uncomprehending Edward. Hilarious.
So now I have a question, and a contest, for you.
What movie left you wishing to see it again, and again, to revel in any detail you might have not fully appreciated the first time(s), and in that feel-good vibe?

Post your answers in the comments and you'll be entered to win a copy of "The Desert Lord's Baby", my debut book in Silhouette Desire. I'll announce the winner here in the comments.

Olivia is thrilled to have THREE books out in April. What a month!

The first book is The Sheikh Surgeon's Proposal. It was her first Sheikh book, the one that heralded FIVE more, and it sold out on the Mills & Boon site when it came out in February, but is now available on eHarlequin. Visit her website to read an excerpt and the fabulous reviews it has garnered! The second book is Desert Prince, Expectant Mother, and it's on the shelves in the UK in April. The third book is her Silhouette Desire debut, and Book One in her THRONE of JUDAR mini-series. The Desert Lord's Baby is a TOP PICK from Romantic Times, and an eHarelquin eBook Bestseller! It's out now on eHarelquin in both paperback and eBook format, but will be on the shelves in May. You can read an excerpt on Olivia's revamped website.


On her website you can also ogle…uh, read about the hunky Sheikhs that populate the six sheikh books she has out in 2008! You can also join her mailing list, or enter a contest to win free books.