This week Historical's author Carol Townend brings us something completely different - a science fiction action flick! How is that for variety!!
Universal Soldier (1992) is science fiction. It is not an overtly romantic film, nor is it an historical and it was some time before I worked out the reason for my fascination with it. And fascinated I was, because one week I watched Universal Soldier half a dozen times, but still didn't realise that the film, in particular the character of Luc Devreux, was acting as some kind of a muse.
My dictionary defines 'muse' in various ways. It is the action of musing; profound abstraction. The dictionary also refers to meditation, to wasting time (?!), and to trifling (?!!). Hmm. There were nine Muses in the Greek myths, daughters of Jupiter and Mnemosyne (memory) and they were regarded as the inspirers of learning and the arts. Usually the Muses are represented as young and beautiful virgins, and sometimes they are evoked in one personage.

In Universal Soldier, Jean-Claude Van Damme has the leading role. Young and beautiful? Many would say yes, and that is of course a matter of opinion, but virginal??! Ho hum. We call 'the muscles from Brussels' JCVD at home…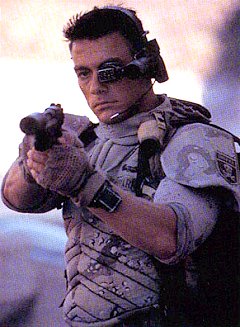 Jean-Claude Van Damme plays Private Luc Devreux. He and a comrade, Sergeant Andrew Scott (Dolph Lundren), are killed in tragic and horrifying circumstances in Vietnam. Their bodies are whisked away by the government and are cryogenically frozen to be used later in a top secret government project. This involves 'reincarnating' the dead men's bodies and using them as fighting machines. Their memories have been erased; they are genetically enhanced; and they also have miraculous powers of healing. They are 'Unisols', the ultimate warriors.
A physically perfect man with no memory. He would be like a blank slate, wouldn't he, a 'tabula rasa'? He would just be waiting to be given his lines. Perhaps that was the attraction? Here, in Universal Soldier we are given a physically perfect model for a warrior hero. (Many, but not all, of my heroes are warriors.) And in the case of the Van Damme character, the lack of memory does confer a sort of innocence upon him while he starts to puzzle out who he is and what has happened to him.

Only my unconscious knew what it was doing while it watched and re-watched this film, but something was definitely going on. And it was certainly more than amusement at some very funny scenes, one of which involved Van Damme's character Devreux, startling the journalist with whom he is travelling (the sexy Veronica Roberts, played by Ally Walker) by stripping off and jumping stark naked into a bath filled with ice. A Mr Darcy moment, the equivalent for we females of the ubiquitous wet-blouse sequence.

Veronica Roberts, voice rising: 'Where are your clothes?'

'I have to cool down.'

Well. Yes. That would explain it. Devreux needs to be cool to regenerate. And in the meantime we, the audience, are given quite a nice visual of that amazing physique.
As the film progresses, it becomes clear that something is not quite right with these perfect warriors. Their memories start breaking through, and with the memories, their individuality begins to reassert itself. Total obedience, it seems, might be wishful thinking on the part of the scientists.

So too, with my characters. Unfortunately. Sometimes they just refuse to follow the plot plan.
The hero of my WIP is one such, a disobedient type who turns up in the wrong place at the wrong time. But all this week I have found myself thinking about Universal Soldier and have suddenly realised why that is.

The old muse has reappeared and, thankfully, it seems there is life in him yet. The film has more to tell me. This time I won't be worrying I don't understand what's going on. I don't have to. Worry isn't necessary when you have a Muse. All you have to do is trust him. And write, of course!

One thing is certain, the themes that are explored in this film: PTSD; the mysterious link between memory and character; the nature of innocence and evil are as relevant today as they were when the film was made. They were equally relevant in the eleventh century, the period in which I am writing. People's natures then were much the same as ours are today. Any minute now, I shall be rummaging through the box in our window seat and digging out our copy of the film. Here's hoping that Van Damme's character is still in as good shape as he was when I first saw it. (Just one thing, Van Damme will look as young as he did in 1992 when the film was made, but I bet the virginal part of his role as muse is still elusive!)
Carol's book An Honorable Rogue is out this month with Harlequin Historicals. An Honorable Rogue is set in France and England in 1067, a year after the Norman Conquest of England. Carol has another book coming out in the UK soon too! The Novice Bride will be out in March with Mills & Boon. This one is set in England in 1066, shortly after the Battle of Hastings. Carol's Website:
http://www.caroltownend.co.uk
For a chance to win a copy of An Honorable Rogue, please leave your comment in the box!