Sometimes you just want to get away. Escape. Leave the laundry and the dishes and the crazy drivers somewhere else and indulge in the kind of pampering that we can only read about. Kind of.
I've actually been to Hawaii, the setting of my current manuscript. Setting is important to a story, but it is also important to an author. I'm already in love with Maui, so having characters fall in love there is a dream come true.
The feathery ferns, spiky plants, heady aroma of flowers thick in the air still humid from the recent rain... There is a good reason why people fly across oceans to spend a few days in Hawaii... In my book they have no idea they came all this way to find romance.
In fact, I've decided to do another hawaii story after I finish this one. I like reading destination romances (Lucy Monroe can take me to Greece anytime and I'm always willing to head to the desert with Jane Porter), so I'm going to indulge myself and write a few.
Maybe I'll even find my characters appreciating the history of Polynesian dance, chants, and legends. I know I was enthralled, sitting with my husband on a beach, watching a luau performance as the horizon took bites out of the setting sun. Color, scents, sounds were more vibrant on the island. The laid back gestalt of the people creates an experience you have to...well...experience!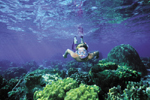 Using an escapist setting can move readers and characters into the vacation mindset - the kind of
what happens in Lahaina stays in Lahaina mantra
. I want to read about people out of the element a bit, putting themselves out there and trying new things. I just might include kiteboarding, surfing, snorkling, cliff diving, hang gliding, or biking down the steep decline of the road to Hana. All things I wouldn't do everyday (except maybe snorkling if I actually live in Hawaii), but something to try once. Experiences that push the limits and bond people together.
I did mention my heroine can't swim, right? Have to build in that conflict somehow.
Now tell me...where is your favorite escapist spot to read about? Right now for me it is Greece...but I do hope that some time in 2009, Hawaii just might change your mind...
Jenna is hard at work on her next title for Mills & Boon Modern Extra. In the meantime, check out her
website
,
blog
, or reading group,
We Call It Research
.