This week I bring you another high-school movie. Love 'em. Truly. I wish John Hughes was still making movies set in Chaciago high schools today. But instead we have a new run which ain't half bad. One of them being: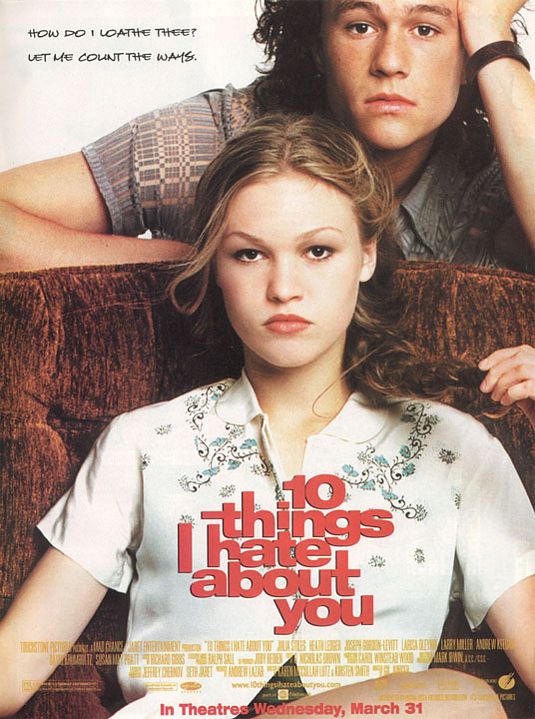 Ten Things I Hate About You
This movie took on a 1990s trend of turning classics modern (Clueless was based on Jane Austen's Emma) by tackling Shakespeare's Taming of the Shrew.
THE SET-UP
New kid at high school, sweet geek Cameron (not our hero ;)), finds himself falling for cute as a button Bianca Stratford (not our heroine) one of the most beautiful and popular girls in his class.
Problem is her over protective father has invented a crazy set of rules whereby Bianca is forbidden to start dating until her elder sister Kat does. The single father's reasoning being that Kat's bitter nature prevents her from actually gaining a boyfriend so Bianca will also remain without a boyfriend for as long as possible, keeping both daughters focused on their school work and not the opposite sex.
Bianca sees nice boy and rather desperate Cameron as her way of making her father bend the rules so that she can see the boy she really wants to see, hotstuff catalogue model boy Joey Donner here helping Bianca with the bow and arrow. Cute no? But smarmy as hell, which helps as he's not our hero either!
THE HEROINE
Julia Styles plays Kat Stratford. Smart. Smart-mouthed. As anti boys as her younger sister is boy crazy. She has her reasons which we don't find out until far down the track in a way that makes this preppy film deeper, stronger.
Julia Styles was born to play such a role. She oozes intelligence. And noboyd does sullen as well as she. but when she finally meets her match in our hero her development into a romantic lead is truly lovely.
THE HERO
To get to date Bianca, young needs to find someone willing to date Kat. He'd have to be sharp, fearless, and just a little bit crazy. Enter Heath Ledger as Patrick Verona. He isn't that crazy. But when Cameron offers date money for Patrick to ask Kat out, he agrees. Can you feel the cold winds of secrets kept circling to hit our young lovers down later in the tale?
I'm not a Heath Ledger fan. I don't see the appeal. But in this film some spark came through. He is dark, romantic, and above all honest. His growing feelings for our Kat are there for all to see. Gorgeous stuff.
It takes some convincing, and some fantastic repartee, and for Patrick to sing "You're Just Too Good to Be True" over the loud speakers on the school oval before Kat agrees to date him.
And the romance is really really well handled. She's tough to break down, and he's supposedly doing it for the money, but somehow the two of them very quickly discover that they are just about perfect for one another.
Everything comes to a head at the school dance where Kat finds out why Patrick asked her out in the first place. Bianca finds out why Kat hates Joey so much and swore off boys forever. It gets quite fraught to tell you the truth. Muchos tears and beating of breasts from all involved.
And the real heart of the film hits when Kat has to stand up in class, heart-broken and recite her own version of Shakespeare's Sonnet 141. Look away now if you don't want to know what she has to say, and how far she has come:
I hate the way you talk to me, and the way you cut your hair.
I hate the way you drive my car.
I hate it when you stare.
I hate your big dumb combat boots, and the way you read my mind.
I hate you so much it makes me sick; it even makes me rhyme.
I hate the way you're always right.
I hate it when you lie.
I hate it when you make me laugh, even worse when you make me cry.
I hate it when you're not around, and the fact that you didn't call.
But mostly I hate the way I don't hate you. Not even close, not even a little bit, not even at all.
As per usual for a film to really work it needs a good supporting cast. The glorious Allison Janney is hilarious as guidance counsellor and wannabe romance novelist Ms Perky who asks her students for a better word for "turgid". And the Stratford's overprotective father, an obstetrician who makes them wear a strap on pregnant belly apparatus around the house before going to any party to show them what sex will do to them, is played by the delightful Larry Miller.
And not only do we have a happy ending for our actual hero and heroine, there are happy endings all over the place! Cameron and Bianca come together. as does Cameron's best friend and Kat's best friend. convlouted? not in the least. Sit down and watch the thing and you'll spend a truly lovely couple of hours on the couch.
Warm & Fuzzy Rating: 8.5
Ally's second Modern Extra Sensual novel, STEAMY SURRENDER is out....now in the UK! This is the one with the sexy Italian hero who owns his own string of gelatarias. Could it get any better? Yuh-huh! Add in a beautiful cabin in the snow, designer duds for our heroine and a sidetrip to Paris and life's a dream.
See more in an excerpt here, or better yet, go out and buy the thing!
~ ~ ~
Are you in to try and win tonnes of goodies with

The PINK HEART SOCIETY

TREASURE

HUNT

??
Today's Birthday Present for the

Lil Pink Dancing Guy

can be found at Jenna Bayley-Burke's Blog....