This Thursday we've invited the lovely Lori Borrill who asks the question on everyone's mind...
Who Wants To Be A Millionaire?
Since the premise for the Million Dollar Secrets continuity is five coworkers winning a mega state lottery, I thought I'd bring up the topic of lotteries and see how people really feel about winning it big.
Yes, you heard that right. How people really feel.
Though I've been throwing $2 in my office lottery every week for almost a decade now, I actually do wonder whether or not I'd be happy with millions and millions in the bank. Studies show that aside from the brief high people experience around the time they win, ultimately they return to whatever state of happiness they'd been before they won. Meaning, if someone was miserable broke, they're miserable rich. If they were moderately happy broke, they're only moderately happy rich.
Then you have the horror stories about people who end up broke within a year or two, all those millions squandered away by bad business deals and the friends and family who suck them dry, or worse, people whose lives are ruined by their sudden fame.
I think if you really press people to think about it, most would say they don't care to win a ton of money. They're modest in their desires, just wanting enough to pay off a mortgage or maybe fund their kids college. Believe it or not, I'm seriously a little afraid of what life would be like if I won millions and millions of dollars. I don't know that I want the responsibility, and I don't care to know who comes out of the woodwork looking for a cut or hearing their justification for why they feel they deserve it. And then the big thing: What would I do?
I asked my husband that one time. What would we do? He responded much like you're probably thinking right now. "What do you mean, what would we do? Anything we want! We'd build a house, we'd travel, we'd....uh...build another house, then maybe travel some more."
I have to admit, much of what motivates me to get out of bed in the morning is because I have to. I love/hate having to work for a living, but I learned during an extra-lengthy maternity leave (I was 2 weeks late) that if I don't have to go anywhere, I don't go anywhere. If I don't have to get dressed or take a shower, I don't get dressed or take a shower. (Yes, I'm a slug and a sloth, I admit it!) By my third week of leave, I was sitting on the couch watching "Eight Is Enough" reruns. By the time the baby was born, I was neurotic. And did you know that newborns can't hold a conversation? What's up with that?
By the time my leave was over, I ran back to the office, thrilled to be back with people like me who simply don't do the be-at-home thing well because I don't have the inner gumption to get the hell off my ass. Give me thirty million dollars? How many seasons was "Eight Is Enough" on the air?
And I have to ask myself if I'd still write novels. That's a tough one for me. Yes, I'm one of those people who would write anyway because I love the craft. But in many ways, writing professionally is exactly how that sounds--it's a job. It's one thing to write for joy and crack myself up over my own funny prose, it's another to wrestle with a story line or push myself through my third round of revisions when I'd rather rip the thing to shreds and never look at it again.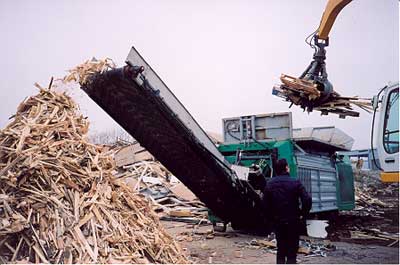 If I won the lottery, I could buy a kick-ass shredder.
And I wonder if I'd ever finish a project through ever again. Part of the joy I get from writing is the fantasy. Someday I could write a best seller, get a $100,000 advance on my next ST and write for a living instead of juggling the craft with my day job. And really, no matter what you do, I think part of living is striving for some sort of dream and having to work to get it. So what if you could have all the things you love and not have to work to get any of them? Would you still love it?
Would you still go in the garden and tend to weeds if you could afford to have someone do it for you? Maybe at first. But then over time you might hire a guy to do one thing, then the next day you're a little tired so you ask him to plant those pansies--just this once--and before you know it, you're sitting on the patio watching someone else garden for you.
I can't really say for sure that I'd stop writing, or gardening, or any of the other things I love if I won millions, but I do have to say I fear it. I don't fear it badly enough to stop throwing in my $2.00. I mean, come on! I'm not crazy!
But what about you? Do you dream of winning it big? Ever think it might make your life worse instead of better? And what would you do if you had all the money in the world to spend? And if you say "travel", you're required to say what you'd do once you're traveled out and have seen it all.
Answer those questions and you're automatically entered in my contest. The prize is an autographed copy of "Underneath It All", along with a spa kit so you can soak in the tub and daydream about how you'd be spending those millions!
For more on Lori and her latest release, be sure to check out her
website
and her blog, the
Sizzling Pens
, where Jenna will some day become a pen pal.