This week as our Friday Film-Night spectacular,

Ally Blake

brings you one of her all time favourites...

CALAMITY JANE
Please, please tell me you have all seen this film!!! If not, go out and rent it now.
Romance in the Wild West. Big musical numbers. Make-overs to rival anything Oprah has ever given us. Great costumes. Cross-dressing. Mistaken Identity. And not one great romance but two.
OUR HEROINE
Doris Day is Calamity Jane, and she is a walking calamity. Hot tempered, rowdy, a fighter, a shooter, a tall story teller who wears leather pants and vests and never brushes her hair. But the way we know from day dot that our Calamity is 100% girl on the inside is that she is in luuurve with handsome Lt Gillmartin.
OUR HERO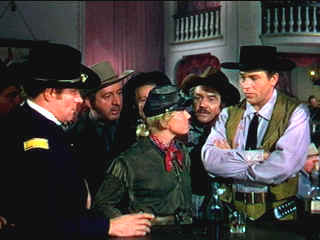 Funnily enough is not the lieutenant ;). Our hero is Wild Bill Hickcok as played by the gorgeous Howard Keel. Tall, dark, handsome, card shark, hot shot shooter. Calamity's best friend, harshest critic, and secret protector. He saves her from herself that many times at the beginning of the film we just adore him to bits.
The romance story begins when our hero believes himself to be in luuuurve with one Adelaide Adams, a stage singer from Chiacgo. Or Chicagee as the locals call it. In fact all the men are in love wihth her, having collected pictures of her from inside cigarette boxes. Even Calamity's lieutenant is taken with her. Trouble is a brewing!
To save face, Calamity goes to "the windy city" and brings Adelaide back to Deadwood. Of course being that she is Calamity Jane, she brings back the wrong girl.
The only way Calamity can save face is to turn Adelaide Adams lookalike Katie Brown into. She protects her, vouches for her and even moves in with her. And here begins a whole bunch of gorgeous wooing as the lieutenant and Wild Bill come a calling. Who loves who? Who'll end up with who? Who will Katie choose? Who will Calamity get as the leftovers?
Bring on the MAKEOVER. For the big dance. Can it get any more romantic and old Hollywood than making a plain girl beautiful and sending her to a big dance for the whole town to admire how gorgeous she really is? Problem is, at this stage she still thinks herself smitten with the lieutenant. While our poor, gorgeous Wild Bill has come to terms with the fact that he has always loved only her. Awwww....
Finally our Calamity sings one fo the most famous songs of Doris Day's career. "Secret Love". It's a lovely ballad that has since been taken over as a bit of a lesbian anthem. A little titbit there for ya!
Calamity gets her Wild Bill. Katie Brown gets her handsome lieutenant, and Deadwood is once again a happy gunslinging town.
Warm and fuzzy rating: An easy 9!
Ally's next Harlequin Romance,

BILLIONAIRE ON HER DOORSTEP

, is out now in the UK and hits North American bookshelves any day now!!! It was also a Top Ten Mothers Day read on eHarlequin.
So head on out to your nearest bookstore and pick up a freshly minted, super-scented, fairy dust sprinkled hot off the presses copy today!
Check out an excerpt here...