What happens…when fantastic category novels….get picked to be turned into movies….and have their stories altered….to find out what happens…when you take over 200 pages of text…and turn it into under 90 minutes of programming…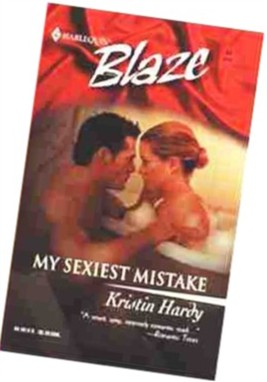 My Sexiest Mistake
by Kristin Hardy is my favorite Blaze of all time. It's the first Blaze that truly hooked me and took me out of my own head for a few short hours and gave me the escape good category romance provides. For me, it's no wonder this story was on the Waldenbooks bestseller list, won a National Readers' Choice Award, and was the first of a series of Blaze novels picked up by the Oxygen network to be made into television movies.
I loved how the workaholic heroine who was trying to squeeze in a romance writing career into her spare (ha!) time was struggling to write realistic love scenes because her love life was…well…missing. In desperation her agent hires her a gigilo whom she meets and um, greets at a hotel. All is very well thank you, until the next day when her agent calls to ask why she stood up the gigilo. Confused, she walks into a meeting and who is there? Oh, yeah. You guessed it.
Brilliant, right?
The movie is a bit different…still nice, but not the story I fell so in love with I went and bought (cough) Blaze novels. Yes, that many. Off Amazon. Before I was writing and it was a write-off. Yeah. They took my hero and made him a neighbor, made the new hero her editor – which I must say boffing your editor is definitely tension!
The same thing happened with
Tempting Adam
by Dorie Graham. The quintessential best friends to lovers Blaze in my book. He's ready to settle down, she thinks he's trying to tempt her into it by playing the sensual secret admirer, and while he is happy to play the part he isn't the one with the gifts…so who is?
In this one, they made Adam kinda, well, Beta. The movie was fantastic, another wonderful romantic comedy that I wish there were more of in the theaters for date night (why must there be so much tragedy and explosions when I want to enjoy myself?), but the book was better.
Making me doubt my point that the book is always better than the movie is Unfinished Business By Suzanne Forster, retitied
Romancing the Bride
by the Oxygen network.
A bridezilla who has planned the perfect wedding wakes up married to a stranger on the morning of the big day. Great as a book. But add in Laura Prepon (That Seventies Show) and Carrie Fisher (Star Wars) and OH-MI-GAWD is this hilarious!


Jenna is hard at work on her next title for Mills & Boon Modern Extra. In the meantime, check out her
website
,
blog
, or reading group,
We Call It Research
.