This week Pink Heart Society editor Ally Blake brings you a film she'd never heard of until it landed in her hot little hands. Now she hopes you'll all go out and see...
CAKE
This was a wonderful little discovery. My hubby came home from the video store with five DVDs for $5. Four of them were for him. Think action adventure, monsters and boy stuff. And one, was for me.
CAKE. I looked from the cover to him and raised both eyebrows. 'What's this?'
'I thought you'd like it. It looks girly.'
I had a day off, and any excuse to sit on the couch for two hours will get me there... And you now what? My clever hubby found me a gem. A romance novel on film. Seriously.
It stars the underrated Heather Graham, and Ian Grey, better known as Rory's dad from the Gilmore Girls, and the nice guy who the heroine ends up with at the end of Under the Tuscan Sky.
THE HEROINE
Phillipa McGee. Pippa. Travel writer and self-confessed Bride-a-Phobe and, well she says it, slut. She's a good time girl. Messy blonde curls, colourful language, even mre colourful and fabulous friends, such as the gorgeous Sandra Oh from Grey's Anatomy, and again, Under the Tusca Sun fame.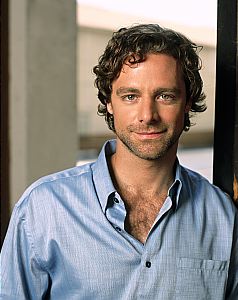 THE HERO
Ian Grey. Pippa's dad's right hand man. A suit. With not much respect for our Pippa after they met at the beginning of the film at a mutual friends wedding. Pippa was drunk, touchy feely, braless, jet-lagged, and in her very best anti-wedding mode.
But Ian is instantly appealing. Cute as a button. A little bit edgy. Full of hidden secrets. And suuuuch a cute smile!
THE STORY
Pippa's dad falls ill. He's the head a huge publishing conglomerate under threat of a takeover bid. And to help out she agrees to stay in town and run the one magazine whse editor has up and left. WEDDING BELLES. And Ian is called in to keep an eye on her.
Not a silly idea, considering on her first day she tells the staff of Wedding Belles she believes, "Marriage is a kind of prison. A place where freedom and choice and sensuality go to die."
Her take on wedding magazines is hilarious. "Till Death Do Us Part" is her first cover story with a heroine chic bride passed out. Bad news, bad reviews.
All fun.
Her friends are fabulous. Hilarious. You want to know them.
The dialogue is real, snappy, energetic.
The feel of the film is natural, real, fun, colourful, with just enough fantasy thrown I to give you lots of aaaahhh moments.
Just for fun, Ian has and ex-wife still somewhat in his life, Pippa falls for a hot photographer, but the whole way through the tension is lively enough between our hero and heroine we just know the sparks will finally set them alight. He likes her, and she knows it, and pushes him away.
But the film is also hugely touching. Wedding Belles was her late mother's magazine. She has a not so good relationship with her dad who she always blamed for making her mother a housewife who had othing more in her life. She travels constantly, changes men as often as she changes countries so as not to be controlled by anyone, and tells herself she has a great life and isn't lonely.
Her journey makes sense. The gradual revelations show her truly gorwing up before our eyes. The relationships in the film are moving and evolving.
And the first kiss scene, the moment where Pippa truly drops her guard for the first time in front of Ian made my heart swell. It's truly truly moving.
So if you are after a sweet, sassy, Saturday afternoon romance, go to your local DVD store and get yourself a piece of CAKE.
Warm and fuzzy rating: 8
Ally's next Harlequin Romance, BILLIONAIRE ON HER DOORSTEP, is out now in the UK and hits North American bookshelves any day now!!! It was also a Top Ten Mothers Day read on eHarlequin.
So head on out to your nearest bookstore and pick up a freshly minted, super-scented, fairy dust sprinkled hot off the presses copy today!
Check out an excerpt here...