Presents author and Pink Heart Society member Annie West is here to tell us all about:
THE TEMPTATION OF BEING SOMEWHERE ELSE
For Annie West, one of the reasons reading is such a temptation is because a good book will pick you up and plonk you down in a whole new world. The setting could be exotically foreign or familiar or fantastic, with fairy tale castles or a neighbourhood just like yours. It doesn't matter, as long as it's vivid and draws you into a new reality. If you're lucky, that place will stay with you long after you close the book.
'Last night, I dreamt I went to Manderley again. It seemed to me I stood by the iron gate leading to the drive, and for a while I could not enter for the way was barred to me. Then, like all dreamers, I was possessed of a sudden with supernatural powers and passed like a spirit through the barrier before me. The drive wound away in front of me, twisting and turning as it had always done. But as I advanced, I was aware that a change had come upon it. Nature had come into her own again, and little by little had encroached upon the drive with long tenacious fingers, on and on while the poor thread that had once been our drive. And finally, there was Manderley - Manderley - secretive and silent.'
How many of you recognise the description? It's the voice-over prologue to the 1940 Hitchcock classic Rebecca (based, of course, on the book by Daphne Du Maurier). Every time I hear Joan Fontaine's voice saying those words I'm hooked all over again, ready to watch that great gothic romance/thriller/mystery. Manderley is a country mansion in
England
. But more than that, it's a significant character in the story. At the beginning of the film it's a ruin, fire-blackened and gaping. Then, as the story unfolds, we flash back in time and experience it through the eyes of the new mistress of the house. It's an elegant old home. A place with secrets and a dark atmosphere of brooding danger. Without the impression of the house waiting and watching, Rebecca wouldn't be such a magnificent tale.
I love stories, books or films, where the setting is a central part of the story. You can't imagine the action occurring anywhere else. The moors in Wuthering Heights or in The Hound of the Baskervilles (different moors, I know); the foggy streets of London in Bleak House; Thornfield, Rochester's house in Jane Eyre; the dark future city of Los Angeles in Blade Runner; or, on a lighter note, the villa of San Salvatore in Elizabeth von Arnim's Enchanted April.
Setting can be a powerful tool. Whether you're a writer who spends paragraphs or even pages in lovingly detailed descriptions of place, or whether you use short snippets of information to paint a vivid word picture for your reader, the location can add an extra dimension to the story you're creating. As a reader, I love to feel I know the place, even if just through a sense of the atmosphere rather than physical details.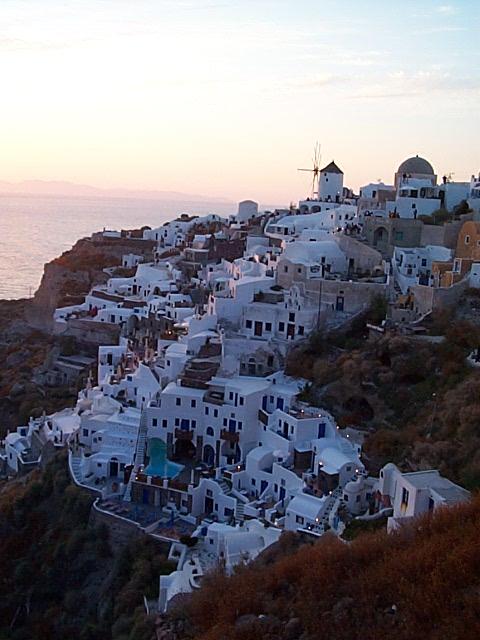 Personally I find myself cutting out a lot of description when polish my manuscripts. I have a complete picture in my head of how the location looks, feels, even smells. And I get carried away sometimes, putting that down to share with the reader. But then I grew up reading books by authors like Mary Stewart, whose descriptions of Greek mountains in My Brother Michael and The Moonspinners were so magical that I'm sure they started my love of things Greek. Ms Stewart could be lavish and long in her descriptions of place. The exotic locations: the hot dusty towns of southern France, a ruined palace in the Lebanon, the wild beauty of Skye, were an intrinsic part of her stories. Her feeling for place and time was wonderful.
In a category length book there isn't the luxury of long descriptions. Instead I try to aim for evocative. For instance, from 'The Greek's Convenient Mistress':
'She stepped outside into the darkness, letting her eyes adjust to the silvery light of a half moon and the jewelled panoply of stars. They were away from the city here and it was quiet. So quiet she could hear the soft shushing of the waves in the cove.
Sophie drew a deep breath of fresh night air, registering the unfamiliar scents. Salt of course, from the sea, but something else too. Herbs? It smelt like oregano and thyme, rosemary and something else, spicy and sweet.
She approached the corner of the long curving balcony, only to pull up abruptly as a darker shadow detached from the gloom and blocked her way.'
And from 'The Sheikh's Ransomed Bride':
'They were the only people on the whole blisteringly hot islet.
Yesterday she'd explored, scouring it for anything they could use to summon help, or to escape. She couldn't have missed anything. She'd had to crawl on her hands and knees since the heavy shackles kept tripping her up.
If she'd been able to walk properly she'd have circled the island in five minutes. A bare atoll: sand, a couple of palm trees and this ruined hut. No help. No supplies.
Unwillingly she let her gaze stray to the single large water bottle their captors had left behind.'
One of the joys I've found in reading category romance is the sense of place, of travelling to somewhere new and exotic, though not necessarily nice exotic. After all, there was Lynne Graham's Prisoner of Passion where hero and heroine were imprisoned in a shipping container for long enough to discover an attraction neither wanted. Now that was a story where location was vitally important to the plot.
Through the years as I've read romances I've made trips between the covers of books to desert kingdoms, Spanish castles, small US towns, glittering social events in major cities, downtown St Kilda in Australia and all sorts of places in between. I've just read Fiona Lowe's Her Miracle Baby where I could feel the chill of the Australian Alps in winter. I've basked in the island paradise of Anne McAllister's Pelican Cay series. And after reading Trish Morey's A Virgin for the Taking, I've decided I have to visit Broome, not just to gawk at the wonderful pearls, but to see the moon over rise over the sands on the Indian Ocean shore.
And now I've run out of space, just as I was having fun, remembering the great places I've visited in so many books. So I'll just leave you with the question – what memorable settings are your favourites? In films, books, TV shows and especially category romances? I'd love to hear which ones you liked and why. I'm always on the lookout for more good stories to experience...
Annie
Annie shouldn't be writing this blog. She should be focusing on her deadline. Her current release, 'The Sheikh's Ransomed Bride' is on sale in the UK (Modern) in April, Australia (Sexy) in May, and the US (Presents) in July.
You can read an excerpt on her website or buy it at millsandboon.co.uk