Ally Blake brings us one of her very favourite films ever in the history of the world. Stick your babelfish in your ear people as this movie is in French!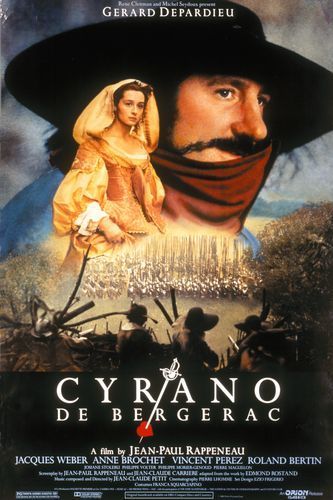 CYRANO DE BERGERAC
This is the classic tale of unrequited love. The most infamous love triangle in literature. And has language so poetic it'll make your knees melt so watch this movie sitting down ;)!
If you are anything like my mum and don't like subtitles, then beware. But the English translation is brilliant.

Based on the play by Edmond Rostand, Cyrano de Bergerac has been copied and honoured many times over. The Steve Martin/Darryl Hannah movie "Roxanne" is a direct modernisation of the story of a great soldier and poet, a man with a very large...nose.


Tell him so, stare at it a tad too long, or purposely not look at it, and he'll likely knock your block off. "There is a thing you should never mention, like a rope in a house where a man has hanged himself..."
His nose is his curse, for though Cyrano is by trade a brave soldier, a fighting Gascon, he is in his heart a poet. A lover of language and words he is not afraid to break out in poetry to prove a point. To soothe his aching heart. To rally his musketeers. Or to fool a dandy braggart. Almost like a musical the way the poetic scenes are scattered beautifully within the prose. He is also a lover of all things good and beautiful. But the ugliness he sees in himself makes him a fighter not a lover.
The crux of the story is the eternal love triangle. Every man in Paris, including our hero, loves the beeeautiful Roxane, who also happens to be Cyrano's cousin whom he himself has loved since they were children. Roxane is adored from afar by Cyrano, wooed by the powerful Comte de Guiche, yet herself enamoured of a gorgeous young musketeer Christian.
One problem for our young lovers. Roxane is a smart woman, a lover of language herself, and Christian...not so much. He is a clod when it comes to romance, and desperate to woo her, and turns to Cyrano, his boss, for help. Christian laments: "Oh, to speak with eloquence!" Cyrano returns, "Oh to be a handsome musketeer."


Cyrano knows of his young cousin's affections for the pretty buffoon, so cannot help but help. For her, anything. His love for her is far deeper than pretty looks and youthful amour. But though he is a great orator, a magnificent soldier and a magical poet, he knows himself not beautiful enough on the outside to recommend himself to such a woman. "I am but a shadow," he thinks of her, "while you are a light."

And together they can be her perfect man. Christian's looks and Cyrano's words.


Roxane receives Christian's first letter, written by Cyrano, and swoons. Soon his letter aren't enough. She needs to see him. Hear him speak such words of love. The first time Christian tries to woo Roxane in person is likely the most famous scene of the old play. For it is here, while the handsome beau stands lit by moonlight, that our hapless Cyrano hides in the bushes beneath Roxane's window, whispering just the right script for Christian to copy to win Roxane's heart.


The twists and turns of the affair only twist harder when Christian and Roxane are alone for the first time and as she begs him to "unravel his feelings" for her in words rather than deeds, he is shown up for the incompetant poet he is. Roxane's response? "It displeases me as much as if you were ugly!"

A dark undercurrent buoys the film.
Our Cyrano has enemies galore. With his big nose has come huge sensitivity. He cannot stand braggarts, fools, or especially those who diegn to make a mockery of true beauty in the arts or in real life. His temper gets the better of him. And soon he is on the hitlist of many less clever men of power. For he does not wish to be at their mercy. "But sing, dream, laugh, move on, be alone, have a choice, have a watchful eye and a powerful voice, wear my hat awry, fight for a poem if I like, and perhaps even die, triumph by chance on my own merit... perhaps I'll not get far, but I'll get there alone."
And a war against the Spanish awaits Cyrano and his musketeers as well! And while there Christian grows thin and gaunt from hunger but remains ever beautiful, while Cyrano writes such letters to Roxane he marks them with his own tears. And she comes, through the front lines to be with the man she loves, thinking it to be the handsome gascon,, who she has long since decided she would love even if he was ugly. More if he was ugly. Oh be still my beating heart!
Where will the conlflicts keeping our three apart end? Can we have faith in any kind of happy ending for our poet? Can he ever love himself enough to allow Roxane to love him back? Will he mess with the wrong man and lose his battle with his temper before its too late? Or will the winds of fate and politics and war make all of that no longer important?


Gerard Depardieu rivals Colin Firth in "looks of love" for his paramour. He is heavenly as the soulful, melodramatic, stargazer. Roxane is gorgeously in love with the idea of love, while being just enough of a game player and a tomboy to keep her interesting. And Christian is lovely enough to make her desire for him to be "the one" believable.

The film takes us from the pastry houses and art houses of Paris, to summer homes and battlefields of France. The costumes are sumptuous. The sets perfection. The script poetic and moving. The music breaks my heart. And the acting is without fault.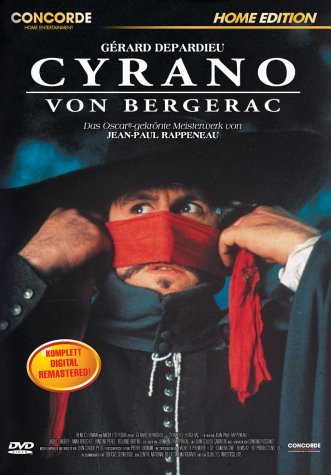 And the romance, the beautiful, timeless, heart-breaking, soulful, sad, romance is transcendant. The final scene... I can't even think about it without tearing up. Truly. The acting, the scenery, the language, the music. To my mind it is the most touching, magnificent final scene in a movie ever. All the way to the most perfect final line that makes me blub and blub.

Please, please, on a rainy day, get this film out at your video store, settle in under a blanket with a hot chocolate and a box of tissues within arms reach and prepare yourself to fall in love with Cyrano de Bergerac.
WARM AND FUZZY RATING: 10!
Ally's next book, her first ever Modern Extra, GETTING DOWN TO BUSINESS, hits bookshelves in the UK next month!
Though you can be one of the first to read about Abbey and Flynn by getting it online now! Check out an excerpt and pics of her hero and heroine inspiration at her website...