Okay, so the new television year has begun in
Australia
. And am I excited??? You have no idea!!! Last year my hubby bought me a present. Well it wasn't exactly for me but since that time it has become mine. All mine. The temptation I am offering you today is the magic, beauty, efficiency, and perfection of the

hard-drive DVD recorder

.
Mine can record ~ 300 hours worth of stuff onto the hard drive. So I can 'tape' what I please and simply scroll through a menu to name it, edit it, and/or watch it later. You can burn the keppers to DVD at the touch of a button and delete the ones you've watch in three seconds flat. If the phone rings and you're in the middle of a show, press pause and it starts recordning instantly. And then when you come back from the phone you can just press play and watch it, pause it, fast forward it, at any point while it is still recording. And, the best bit by far, it recognises ad breaks! Truly. Click the chapter button as soon as the ads start and boom, you're at the beginning of the next segment of your show. I know! Doesn't it make you want to cry with happiness!
It has changed my life. Now I don't have to beg and plead and block one ear while listening with the other as my hubby sighs and grumbles and makes smart alec comments when I want to watch GREY'S ANATOMY and SO YOU THINK YOU CAN DANCE (my favourite summer show my a mile!) or other girly shows (BTW two weeks to go here in Aus so NOBODY tell me who wins!!!!!) I just tape everything, and watch it at my liesure. Usually as I eat breakfast, or sit down to lunch when I am at home writing. Perfect!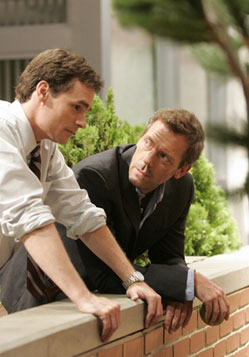 So, this coming must see TV season I am desperately looking forward to recording hours and hours of:
HOUSE (I could marry him, seriously - that dry wit, those blue eyes, all that damage)
UGLY BETTY (the ads look darling)
WEST WING (the final series is yet to play in Aus)
GREY'S ANATOMY (McDreamy, McSteamy or McVet? Is it fair one woman has so much deleriously gorgeous choice?)
LOST (I've seen the first 6 and oh...my...god is it exciting!!! I don't even care that I reckon the wrtiers have less of a clue about what's really going on than we do! I adore it!)
We are a tad behind the US so no spoilers please ;), but I would love to know what you guys see as THE must see TV shows of the year.
Ally's latest book, Sweet Romance
Meant-To-Be Mother
is in bookstores now in
Australia and New Zealand
.
For more about the book, with blurbs, excerpts and behind the scenes info and pics, check out her website.
And on her blog this month she is talking about the process of writing her next Romance in her Between the Sheets series.


HAPPY VALENTINES DAY FOR TOMORROW!!!