It's
February...the month of romance. And the month that sees the launch of the brand new Harlequin line -

Everlasting Romance

.
This week at

The Pink Heart Society

we are proud to bring you a very special guest in the form of Everlasting Love launch author Linda Cardillo!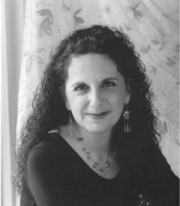 About Linda:
Words have always been a source of fascination for me as well as the focus of my professional life. I've edited college textbooks, marketed a magazine for entrepreneurs, written business books on marketing and corporate policy, and taught English and creative writing. Writing fiction now is a dream come to fruition, and I am eager to tell more stories that I hope will resonate with readers.
Spotlight On Linda:
Where do you get the inspiration for your books from?
My inspiration comes from many sources. For my novel Dancing on Sunday Af
ternoons, the idea came from love letters written by my grandparents and given to me as a gift one Christmas. For my upcoming novella in The Valentine Gift from Harlequin Everlasting Love TM, I drew upon my experience living among the vintners in the Rhine Valley in Germany. Sometimes, I'll get an idea from a striking photograph or an overheard fragment of conversation. Like many writers, I'm an observer and an eavesdropper, watching and listening.
What makes you mad?
Those who treat others unjustly or without civility.
What's the most romantic thing that has ever happened to you?
My husband is a serious sailor who keeps a journal when he is at sea. He once made an Atlantic crossing entirely under sail on a tall ship—a journey that took 42 days. When he returned he handed me the journal—a record not only of his daily life aboard the schooner, but his daily thoughts of me. Having those words are a precious gift.
What in a hero makes you drool?
Eyes that see into a woman's soul.
If you weren't a writer what would you be?
I'd open a restaurant.
What do you do to relax and wind down?
I sit with a cup of tea every Sunday morning and do The New York Times crossword puzzle, or I grab one of the books stacked on my bedside table and READ.
How do you get out of a writing rut?
I learned a few years ago to free write with a timer. I'm like Pavlov's dog when I set my trusty electronic timer to twenty minutes and pick up my blue fine point pen and a narrow-ruled pad. No matter how blank my brain feels, those simple physical tasks seem to trigger the words. I've trained myself to be disciplined and do nothing but write when the timer starts silently blinking away the seconds.
If you could live anywhere in the world where would it be?
I used to think it would be in the hills above Florence, Italy—and that is probably a close second. But at this point in my life, I'd choose to be within sight of the sea. For the last five summers we've been spending time living in an isolated cottage surrounded by water on three sides, and it is paradise.
Who would you most like to give a hug to for a fabulous book you've read?
So many wonderful writers! Most recently, Sarah Dunant, for The Birth of Venus and In the Company of the Courtesan; Gregory Maguire for Wicked; and Elizabeth Kostova for The Historian.
What music do you listen to when writing?
I seldom listen to music when writing, but when I do I go through cycles. Recently, I've been listening to Jesse Cook and Loreena McKennitt. During the past year the stack of CDs by my computer has included Handel's Wassermusik, the soundtrack to the movie "The Piano," and Vivaldi's Four Seasons.
Tell us a secret nobody knows about you
Secrets are meant to remain hidden.
What
was your most embarrassing moment?
I am one of those animated talkers who cannot express herself without using hands that appear to be conducting an orchestra. Invariably, those hands make contact with wine glasses, usually filled with Pinot Noir, on elegantly set tables covered in white damask.
What have you had to celebrate in the last year?
A family reunion on my mother's side, with over 90 aunts, uncles and cousins ranging in age from 3 months to 98 years; my children all home together at Christmas after far-flung travels to Germany, Thailand and Scotland; and my first reviews of Dancing on Sunday Afternoons.
What's beside your computer when you're writing?
A cup of tea, Italian and English dictionaries, and my notes.
If you could kiss anyone in the world who would it be?
My husband. His kisses are passionate, playful, and a source of joy. We kiss many times every day—in greeting and departure, whether we're leaving the house for a few hours or a few minutes; in gratitude for any of the many small tasks we do for one another; and in love.
What are you working on now?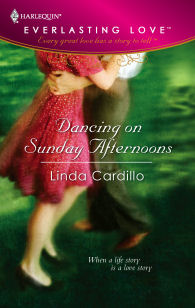 A novella, tentatively titled "True Harvest," for inclusion in The Valentine Gift, due from Harlequin Everlasting Love TM in February 2008.
Dancing on Sunday Afternoons, Harlequin Everlasting Love TM is available now in North America. You can find out more about Linda and her upcoming books at her website.
Thanks Linda!!!