This week's induction into the

Pink Heart Hall of Fame

is a classic. Really.
It was filmed in 1964, and is still brilliant. But then, aren't most things Cary Grant did classic? Plus it won an Oscar. But it is pure category romance, AND you can watch it with the kids in the room, AND your honey will watch it too. This is the perfect movie. No pressure to the other Friday Film Nights.


This movie has everything -- adventure, war, comedy, romance…yes, the romantic tension of polar opposites attracting crackles from the screen. Tension only though, there are as more kids in this movie than there are in my living room!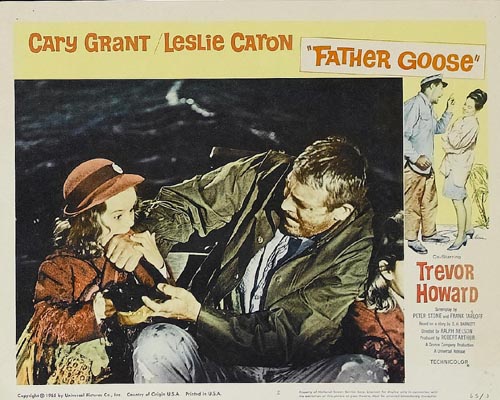 Veteran Walter Ecklund (Cary Grant) is persuaded to be an aircraft spotter on a deserted island in the South Pacific during WW2. Much to everyone's surprise, French school teacher Catherine Frenau (Leslie Caron) and her class of girls survive a plane crash and seek shelter on his island.


Walter Eckland
: Let me tell you I am not a father figure. I am not a brother figure or an uncle figure or a cousin figure. In fact, the only figure I intend being is a total stranger figure.
He gets completely over-run by the women who use his clothes, food and belongings for themselves. I love comedy that doesn't rely on slapstick or toilet humor, so when Walter has to radio in for supplies and has to order jammies with bunny feet, I double over with laughter.


Catherine Freneau
: Look at their clothes.
Walter Eckland
: They're my clothes.
Catherine Freneau
: But they're filthy.
Walter Eckland
: No, they're dirty, I'm filthy.

This movie sparkles with the classiness that is Cary Grant, even unshaven and without socks he is a true gentleman, the ideal romantic comedy hero. Stubborn masculinity meets sensual femininity for a match made in Hollywood heaven.
Warm and fuzzy rating: 10!

XOXOXO -- Jenna

Jenna's latest book is her January Australian Sexy Sensation release,
Just One Spark
.
To find out more, you can visit her
website
,
blog
, or reading group,
We Call It Research
.