Today lovely Harlequin Blaze author

Samantha Hunter

brings us her views on the internet, blogging, and toenail polish. Take it away, Sam!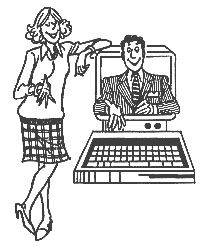 While a lot of people write computer-oriented romances these days, just as lot of people meet their spouses online, I'm always pleased that I did both before they were trendy. I met my husband online almost fourteen years ago – there was no eHarmony or Match.com (though I think those are great!). We met by fate, just being in the same place at the same time, online. We talked online and emailed for three months before meeting for real, and two months later we moved in together, and that was that.


It was the incident that inspired my first book, Virtually Perfect, which was unique when I pitched it to Blaze four years ago, as well. So much so that the editor called me for the full based on the query because she was curious to see how I'd executed an online relationship where the couple wasn't actually together for the first part of the book. Eight months later, it sold. I kept writing about computers with my HotWires series about computer crime agents, and in my current book, Untouched, an Extreme Blaze with a paranormal slant, computers figure in yet again.

Online life has been good to me, bringing me jobs, friends, pets, shopping, social connections, storylines, business connections, research and one terrific husband! When someone asks me where I found him, I still love saying, "On the internet." LOL

It's hard to say how important the internet is to any one person, but it's been life-changing for me. On top of meeting my husband there, I also became a writer there, talking with other writers, editors, and learning the ropes at eHarlequin. How many people right now would not even be trying to write had it not been for the internet taking them to places like eHarlequin or The Pink Heart Society? What if they had never been able to email with RWA chapters, online critique groups, or authors who dole out advice?


Now that I've started blogging, I'm enlarging my online life again, starting my own group blog, guest blogging and visiting other blogs. I wasn't a blog fan, I'll admit it, but that was because I thought most blogs were self-perpetuating, masturbatory crap about what color nail polish someone put on their toes that day, as if I care. What I discovered was a wealth of insight, experience, and information that you couldn't get anywhere else, and from the horse's mouth. I found more friends, more promotional opportunities, and more industry contacts. I had thought of blogs as separate little spaces where people went on and on about themselves -- and some still are -- but so many are part of a community that shares and supports each other, offering a treasure trove of knowledge. I'm glad I'm getting to share in that, and I hope I keep being able to be part of all the new things the internet has to offer.

The internet, for all of its downsides, and there are some, has been a terrific addition to life, allowing us opportunities and relationships we may never have had otherwise. Real life is made richer by what online life brings us. So I'm always curious about people's online lives – do you have an online love story? Have you found your job, your calling, your spouse, your best friend, or anything else that changed your life online?
Samantha Hunter is a former professor, quilter, dog lover, environmentalist, and not above picking her husband's brain for plot details. To learn more about Samantha, check out her
website
, find her on eHarlequin (check the Blaze rooms or the
We Call It Research
book challenge) or her new blog,
Love Is An Exploding Cigar
.
Wow, Sam!! You are everywhere! Thanks so much for chatting

with us!