Today's nominee for the Pink Heart Society Hall of Fame is, Clive Owen.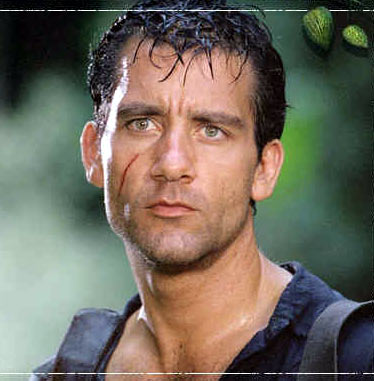 I first discovered Mr Owen in a film a friend lent me saying I HAD to watch it. It also starred Angelina Jolie who isn't one of my favourite people. So I baulked. I made excuses. But Mary bugged me soooo much I just had to take the damn thing, stick it in my DVD player and get it over with.
The film was called Beyond Borders, and if you haven't seen it – DO IT NOW! And make sure you have a box of tissues at the ready. In that movie Clive Owen is strong, vulnerable, sexy, dark, and utterly beguiling. I mean look into those beautiful green eyes and tell me you're not moved? Needless to say I fell madly and deeply in love ;).
Being backwards, I then went and found a number of his other films. He is fabulously brooding in Gosford Park, which also gave me the pleasure of watching Jeremy Northam, another favourite of mine. He is edgy and desperate and the best thing about Closer, with Julia Roberts, Natalie Portman and Jude Law. Though the movie is at best uncomfortable, he and Ms Portman have one heck of a sexy scene in the back room of a strip club. He was nominated for an Oscar for the role.
If you feel like a Clive Owen fest, some of his roles are as a misguided husband on the edge of a nervous breakdown in the forgettable Derailed with Jennifer Aniston; as a croupier in the equally forgettable film, aptly entitled Croupier; as a mysterious bank robber in Inside Man; as a reluctant rebel in a dystopian society in the most recent film Children of Men; as Sir Walter Raleigh opposite Cate Blanchett's Elizabeth I in the upcoming film Golden Age which I can't wait to see! And the title character in King Arthur alongside Keira Knightly.
His voice is like melted dark chocolate: deep, delicious and devastating. I'm certain that led to his part in the fabulous graphic novel adaptation of Sin City in which he featured as noir antihero Dwight McCarthy.
In real life Owen was born in Coventry, West Midlands, England, the fourth of five brothers. At the age of three, his father (a country and western singer) left the family. Owen was raised by his mother and his step-father. While initially opposed to drama school, he changed his mind in 1984, after a long and fruitless period of searching for work. Owen graduated from RADA in 1987 in a class including both Ralph Fiennes and Jane Horrocks. After graduation, he won a position at the Young Vic, performing in several William Shakespeare plays.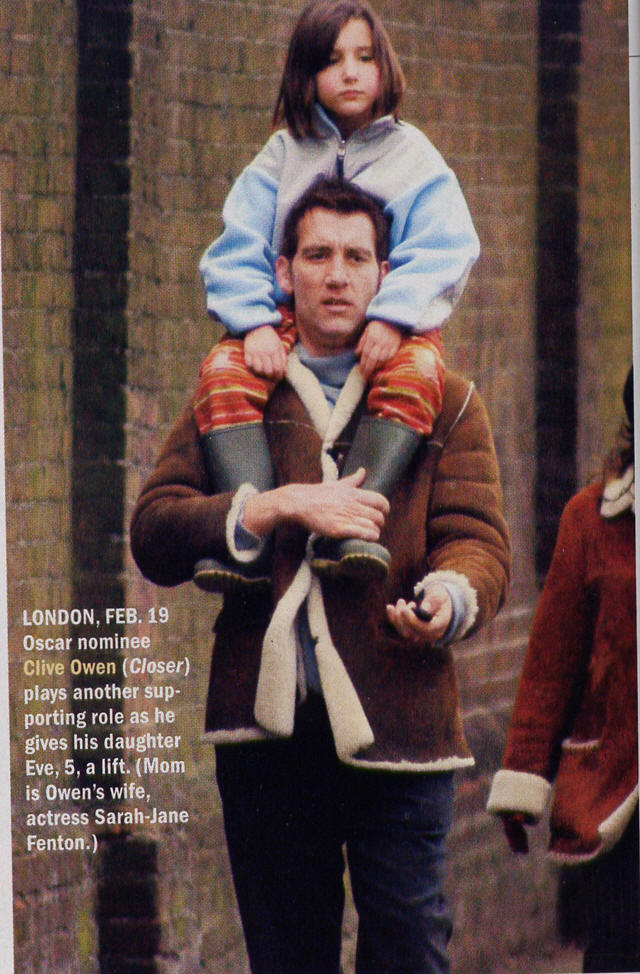 In an incident he later described as "very schmaltzy," he met his future wife Sarah-Jane Fenton while they were performing the title roles of Romeo and Juliet. They married in 1995, and have two daughters, Hannah and Eve. Everybody say 'Aaaawwwwwww.'
An interesting tidbit: Clive is well known to many Americans as the star in a series of eight minute short films/advertorials for BMW. Directed y the likes of Guy Ritchie, Ang Lee sand Tony Scott, Clive starred as "The Driver" in each film which highlighted the performance aspects of various BMW automobiles. The Discs were given to new BMW owners in 2001 and 2002 and later sold for huge amounts on ebay. Isn't that cool? I for one wanna see them!
He is tall, dark, handsome, and has a voice I could just close my eyes and listen to for ever and a day. Is it something about the English accent that does it for me? Perhaps. Or perhaps it's just Clive.
Ally's latest book, Harlequin Romance Meant-To-Be Mother is available now in North America and the United Kingdom.
For more about the book, with blurbs, excerpts and behind the scenes info and pics, check out her website.