This week's inductee into the Pink Heart Hall of Fame, was also the film chosen by last month's hamper winner as her favourite romantic film.
To find out who that winner is... well... just read to the end of this post... Meanwhile, Ally Blake brings us...
THE NOTEBOOK
This was a movie recommended to me by a friend long after it had hit DVD. When I sat down that day a year ago, little did I expect what beauty, romance, joy, and tears the next couple of hours would bring.
Our film opens with Geena Rowlands in a nursing home, visited by an old friend who seems to come by each day to read to her from an old book. Some days are good and she seems to remember she has known him from somewhere, and some days are not so good when she sees him as a stranger. But back he comes, day in and day out, to spend time with her, and read to her, and put a little light into her day.
The story he reads to her is about young Noah Calhoun, a lumberyard worker, who is instantly smitten with seventeen-year-old Allie Hamilton, the daughter of a rich Southern family who is spending the summer at their vacation home in 1940s South Carolina. Allie's parents disapprove of their relationship, and Noah and Allie are separated. However, Noah and Allie's paths cross again seven years later, but by then, Allie is engaged to wealthy Lon Hammond. The Notebook became a "sleeper hit" in Summer 2004 and put Rachel McAdams and Ryan Gosling on the map in Hollywood as "up-and-comers."
The hero: Noah Calhoun
Played by the dashing Ryan Gosling. Having only seen him play sleazy bad guys before, I was ready not to like him as our hero. But from the moment he hits the screen he is charming, vulnerable, cheeky, and absolutely lovely. Those sad eyes, that great heart, that deep lazy voice, that long lanky form. He is one tall drink of water.
The heroine: Allie Hamilton
Poor little rich girl as played by the goooorgeous Rachel McAdams (the heroine in Wedding Crashers), and absolute gem of an actress. Allie is fiery, vivacious, bright as a button. She is adventurous, giving, and there is not one moment where you doubt that the hero fell in love with her at first sight. And though she tries valliantly to keep our hero at arm's length, he is like noone else she has ever met: a man who wears his heart on his sleeve.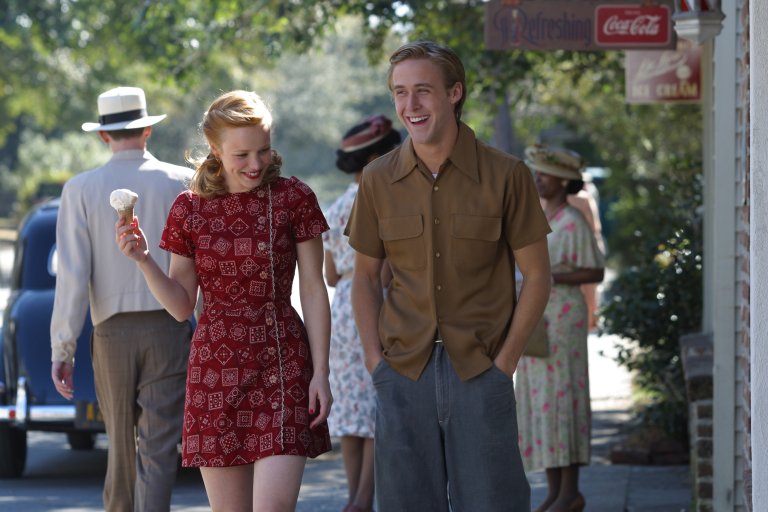 This movie isn't just a three week romance. It is the romance of a lifetime. Spanning over years, decades, through break-ups and engagement to other people. From first kisses, to first loves, to first broken hearts and more. I have never seen a film cover the love of a lifetime with such pace and nuance and believability and fantasy all rolled up into one delightful package.
Trivia: Ryan Gosling and Rahcel McAdams are both from the same town in Canada, and since the making of this film in 2004, are still dating.
Trivia 2: In the book the character of Allie was a blonde, but the director wanted her to have red hair to match her fiery personality.
Trivia 3: Ryan Gosling built the kitchen table featured in the movie in preparation for his role as Noah in the film.
Trivia 4: Rachel McAdams beat out many other actresses for the role including...Britney Spears!
The fashions are gorgeous, the acting is superb, the story within a story set-up classic. the romance is raw, fiesty, expressive, obvious, undeniable. It is a mushy, kissy-kissy film with lots of tension, young spats, and even better make-up scenes.
The tagline of the film was: Behind every great love is a great story. And this story is a modern day classic.
And if you can watch this film without balling your eyes out, then you're a robot. A robot I tell you!!!
Warm and fuzzy rating: 9 1/2
Ally's latest book, Harlequin Romance Meant-To-Be Mother is available now in North America and the United Kingdom.
For more about the book, with blurbs, excerpts and behind the scenes info and pics, check out her website.
NOW TO THE HAMPER WINNER!!!

What fabulous responses we had for this month's hamper. Our question was: if you could choose only one romance movie to add to Friday Film-Night, which would it be? The winner was Rachel Blair for her choice of The Notebook. The Notebook is based on a book by Nicholas Sparks and believe it or not it runs to only 50,000 words, the same length as a Harlequin Romance novel! It is also a big reason behind the launch of the new Everlasting Romance line for Harlequin.
Thanks Rachel! Email us at thepinkheartsociety@hotmail.com with your address and the respective authors will each send you a copy of their books!! I hope you have plenty of time to read this month!!!
For a look at the insanely fabulous hamper Rachel won, check this out! And remember gang that the Foreign Book Giveaway will still run until the end of this month - so don't forget to leave a comment at the end of The December Hamper Post to be in for a chance to win!!!