This week's inductee into the Pink Heart Hall of Fame is none other than bad boy Brit pop prince Robbie Williams...
What is it about this guy? Why is he the kind of guy who gets friends ready to scratch one another's eyes out for the mantle of the one who loves him more? For that is what happened the last time Robbie came to town. My friend Jenny and I texted one anothert from opposte sides of the stadium and by the end of the night I wondered if our friendhsip would go any further!

Luckily Robbie left town and our hormones realigned and we've been fine ever since.
According to Wikipedia,

Robbie Williams was born Robert Peter Williams on February 13, 1974 in Burslem, Stoke-on-Trent, Staffordshire. His career started as a member of the immensely successful band Take That in 1990, which he left in 1995 to begin his solo career. Since then, Robbie has grown to become one of the most successful male solo artists in British history. With total sales of more than 60 million records. Phew.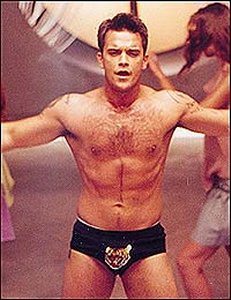 But that's all a bit clinical when talking of the Robbie. A man of many tattoos, of a cheeky sense of humour, and beeeeautiful green eyes made even more stunning by the darkest lashes on the planet. He is a bad boy, and has run into trouble in the past, leaving Take That in the middle of the night by filling up the boot of his car with booze and heading off into the sunset to be an Oasis groupie for a year. He likes to get his kit off in public, and will do anything for a laugh or to get the girls screaming.
One of my favourite Robbie moments was when Sony signed his several hundred million dollar record contract a couple of years back, rumoured to be the biggest ever. Robbie's comment to the press? Not some self-deprecating "I have so many people to thank" gibberish. He held his arms aloft and cried "I'm gonna be rich beyond my wildest dreams!"
But he is a boy who loves his mum. No doubt. And his dad, who is a crooner/comedian who does the rounds of RSLs and old people's homes. Our Robbie made one of the best albums of his career SWING WHEN YOU'RE WINNING to honour his dad's swing and jazz roots. Now everyone say aaaaawwwwww....
Officially he remains single but is rumoured to be dating model Lisa D'Amato as of October 2006 after meeting at a Hollywood party. Our Robbie likes to encourage an image as a smooth womaniser. He regularly plucks female fans from the audience of his live performances and French kisses them on stage. Yowsa!
He's cheeky, sneaky, funny, charismatic, talented, lost, and just a little bit sad. He has a voice like velvet, the body of a guy who could get himself ourt of a fight and so many bad habits he's comepletely unredeemable. And I love him.
I have Robbie tickets. For tonight. At , Robbie and I will begin a moment together that will last two long, beautiful hours. The fact that fifty odd thousand others will be sharing that moment is irrelevant. For when Robbie sings, he sings only to me. I can feel it. I can see the direction of his eyes. His voice washes over only me in the semi-darkness. And anyone who thinks different will be in for an eye-scratching!
Ally's latest Silhouette Romance,
A MOTHER FOR HIS DAUGHTER
is her first book set outside of
Australia
. It was the winner of the Cataromance
Best Tender Romance
for the first half of 2005. Think
Rome
,
Tuscany
and a gorgeous Italian hero that Romantic Times says "could tempt almost any woman".
For excerpts and the behind the scenes inspiration for this book, check out her website!