For my November nominee for the Pink Heart Hall of Fame, I put forward a classic tale about a girl with an unusual, well, tail...
THE LITTLE MERMAID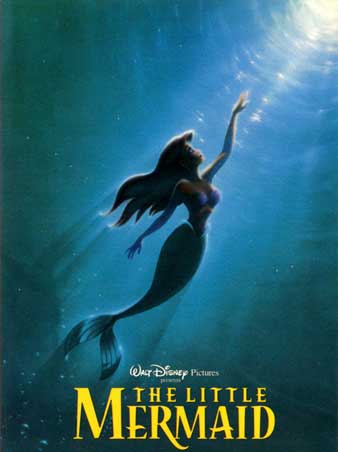 Based on the somewhat more tragic Hans Christian Anderson story which doesn't have quite the happy ending we enjoy in this modern retelling, I believe this movie is Disney animation's great romance. (And is has just been re-released on DVD so go out and buy it now, as you won't find it retail again for another 10 years!)
I am a fan of this movie, in every sense of the word. I can recite the words, I can sing the songs ("Part of Your World" would be my song of choice if I ever auditioned for Australian Idol), and I collect Little Mermaid memorabilia. And if I ever get brave enough to get a tattoo, the picture from his movie poster will be it. And that has to be true love, right?
I love it, love it, love it! I mean how can you not? A handsome hero, a feisty heroine, a doting father, a castle or two, a tragic love affair, magic, talking fish, evil witches, great sea battles; this movie has everything going for it!
THE STORY:
Prince Eric's ship goes down during a storm and he is rescued by Ariel, a mermaid and daughter of King Triton. He awakens on the beach to the sound of her singing, and falls instantly in love with her, even though she is backlit and he has no idea what she looks like.
Ariel also falls in love, so much so that she asks the evil sea witch Ursula to transform her into a human. She does so at the cost of her beautiful voice, which is unfortunate as it is the only way Eric could recognize her. Problem number one...
Problem number two: in order to keep her soul, which she learns after the fact was a part of the bargain for legs – note to self, read all contracts with evil sea witches before signing them - Ariel must make Eric fall for her, and marry her, before the sun sets on the third day. Phew!
Problem number three: Eric is already in love with the singing girl from the beach, but since Ariel now has no voice he doesn't realise it is in fact HER!
Boy oh boy! How can they ever get out of this one?
THE HERO: Prince Eric.
Seriously, have you ever heard of a Prince called Eric. That was brave right there ;). But once we get beyond the name he is pure heaven. Tall, dark, handsome, blue eyes, big teeth, romantic, yearning for true love, and he has a dog which always denotes sensitivity in a guy.
Then there is the open necked shirt, the knee-high black boots and the red sash combo he likes to wear. Yummo! Thankfully in the end we get to see how utterly dashing he looks in a uniform.
THE HEROINE:
Princess Ariel.
A feisty redhead. Gotta love that! She's sweet sixteen, never been kissed, full of dreams and aspirations. She's daddy's little girl but is on the verge of breaking into womanhood. King Triton, good old dad just wants to hang onto his little girl, while she is ready to explore the big wide world. And she's a princess. Was it any wonder I wanted to be her when I was teenager and this movie first came out?
THE ROMANCE:
It is so sweet. Both are madly in love with one another from the moment they meet. Both are madly in love with the idea of being in love. The conflicts and stumbling blocks in between are many and far between with a hint of magic thrown in for good measure. And then there's the "Kiss the Girl" sequence where her animal friends try to fashion the most romantic moment ever, in a boat, beneath a weeping willow, surrounded by the glorious sounds of oncoming night... Sigh...
And then when she gets her voice back and the evil spell over him is broken and true love triumphs...
There are a few small inconsistencies even a great lover cannot ignore. Why didn't she just write on a bit of paper "I was the girl who saved you but my voice has gone"? But in a film that boasts singing lobsters, and underwater kingdoms, maybe we can ignore such things and simply let the beautiful story wash over us.
And as to the happily ever after...there is a sequel!!! Yes, they are still together, and they have a feisty daughter of their own. Everybody say aaawwwww....
WARM AND FUZZY RATING: 8
Ally's latest book, HOW TO MARRY A BILLIONAIRE is a Silhouette Romance release in North America this month!
For more about this book, and the two others in the St Kilda Stories trilogy, check out her website